Danang, Marble Mountains, and China Beach
[ Back to Nha Trang | Table of Contents | On to Hoi An ]
According to Lonely Planet, "Danang gets the thumbs down from just about
everybody", and I'd have to agree. Several reasons I guess, but I always
seemed to feel like I was on the verge of being scammed in Danang -- hard to tell
if I was or not, and overall we didn't have any major problems, but dealing with the
people there was less pleasant than in other places. They seem to have figured out
the whole tourist thing a little more in Danang, and it shows in their negotiating and
sales tactics. However, there are still some good things to see in and around Danang,
one of the best being the city of Hoi An (next page), which was my favorite city in Vietnam.
We ended up taking a train from Nha Trang to Danang after our flight was canceled
due to bad weather, and overall it turned out to be a pretty good way to travel.
There are several classes of train travel in Vietnam, and for sleeper berths the choices
are "hard sleeper", which consists of 6 wooden "beds" (without cushions) per room,
and "soft sleeper", which has 4 soft beds per room, much like the trains in Europe.
Lonely Planet warns of the kids that like to throw rocks at the train. Apparently this
is not just a rare occurance, as we saw it happen 2 or 3 times on our trip, one of
which left a dent the size of my fist in the metal screen we had pulled down in front of
the window. Heed the warning. :-)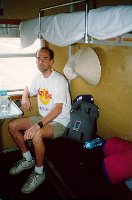 Riding a "cyclo" -- a sort of bicycle rickshaw, and the mode of cheap transportation
all over Vietnam. Trips around town were usually a dollar or less, and they can be
hired by the hour just as inexpensively. Negotiating is always a part of taking a
cyclo somewhere (before you begin the ride), but after a few times it's pretty easy
to figure out what the real price should be. Be careful though, as we found that the
last offer you make as you turn on your heels to walk away will always be accepted,
because of how desperate many of the drivers are to make money for their families.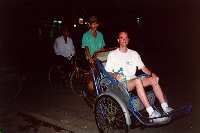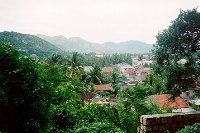 Just south of Danang on the coast are the Marble Mountains -- 5 marble hills
where you can explore caves used as Buddhist sanctuaries. Bring a flashlight, and
be prepared to be guided by at least one of the many souvenir-selling children
that seem to run the place. At the end of your "tour", you'll be expected to buy one
of their souvenirs for a couple of dollars. They seem intent on not taking money for
any reason other than a purchase -- probably because the souvenirs are priced higher
than what most people would leave as a tip.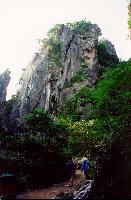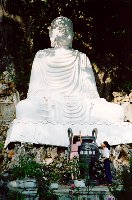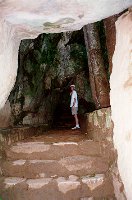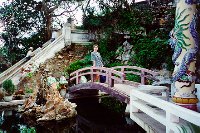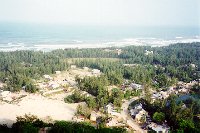 Officially, China Beach is south of Danang, beside the government-owned
Non Nuoc Seaside Resort (also known as the China Beach Hotel). But many people
today say the real China Beach was about 3 miles north of Non Nuoc, at
My Khe beach (below). Like a lot of places in Vietnam today, it's hard to imagine
what it was like over 20 years ago when Americans were airlifted here for R & R.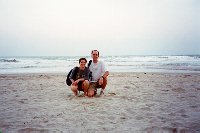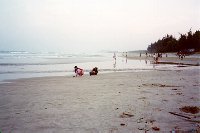 [ Back to Nha Trang | Table of Contents | On to Hoi An ]
Comments are appreciated! Please visit the feedback page.