Nha Trang
[ Back to Cu Chi Tunnels | Table of Contents | On to Danang ] After 8 great days in HCMC and the Mekong Delta, we flew to Nha Trang on
Vietnam Air. Although we heard several stories of old Russian airplanes, we never
really had a problem with the planes or the airline. Most planes we flew on inside
Vietnam had 16 rows, and were quite comfortable for the short flights.
Although there's a fairly nice beach running alongside most of Nha Trang, I don't
have a single picture of it. :-) Mostly because it rained almost the entire time we
were in Nha Trang, and we never really had a chance to enjoy the sun and sand.
Nha Trang isn't really setup like other places in S.E. Asia such as Thailand, where
you can spend weeks relaxing in a beach bungalow for a few dollars a day. But it has
several good things to see, and it was a nice relaxing change from frantic HCMC.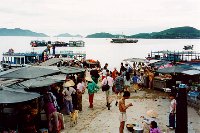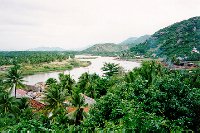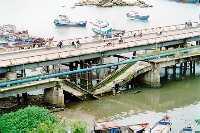 Thang Loi Hotel. Be sure to get a hotel at least one street back from the main beach
road because of the loudspeakers that blast Vietnamese announcements at about
7:00 each morning.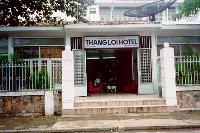 Long Son Pagoda, with its huge white Buddha, and great views of the city.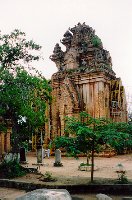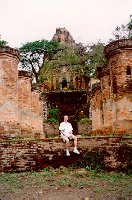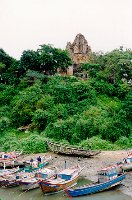 We did a half-day boat trip from Nha Trang, which included a stop in this fishing
village (remaining pictures on this page). The boats in and around Nha Trang are all
painted blue with red stripes (below, left). This particular village was also known for its
small round bamboo fishing boats (below, right), which double as water taxis to bring
tourists in from the larger boats.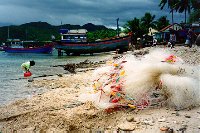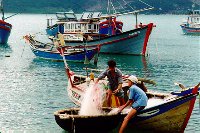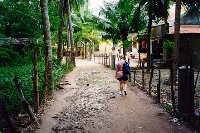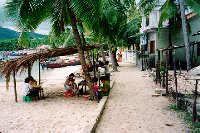 Local kids play soccer, and Kathey learns a new form of "jacks".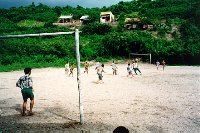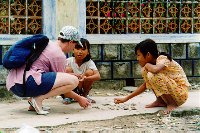 [ Back to Cu Chi Tunnels | Table of Contents | On to Danang ]
Comments are appreciated! Please visit the feedback page.