Today we walked 12.0 miles (19.4 km) in 6 hours including breaks, lunch, and grocery shopping at a big supermarket.
We started the day in Logroño, looking for breakfast with the new Irish friends Colm and Cora that we had dinner with last night. They're doing the Camino across multiple years also, but they're staying a couple of extra days in Logroño before heading home because Cora has a blister on one toe that was bad enough that she needed to see a doctor for it. As we were getting ready to leave, they gave us their rain pants since they didn't need them anymore — so generous! We were thrilled to have them, because it was one thing we left behind because of weight. If we'd known we'd be in the rain almost every day though, things would be different. About a half hour into today's walk it started raining again, but this time we put on the rain pants and felt warm and ready to face it. What a difference it made.
We were tired today. Usually when we wake up in the morning we're charged back up to 100% and ready to go. This morning it was more like 50%. Yesterday taught us an important lesson — we do really well with distances around 12 miles (19 km) but not so well around 17 (27 km). We'll keep that in mind next year, and only do long days when we can take a rest day afterward. So even though today was 12 miles, it felt as hard as yesterday.
About a quarter of the way though, we met an Irish girl (we've met a lot of Irish people on this trip) named Brídín and ended up walking and talking with her all the way to Ventosa, where we are now. It was a really nice part of an otherwise long hard day.
But like yesterday, the clouds opened up on us just before we arrived — this time about 2 minutes before — and we even saw some really small hail. At least we had the rain pants this time, but we still got pretty wet. Since Brídín was going further, we had to say a quick goodbye in the rain before she headed off. We were thinking we missed a chance to get her email address and maybe even see her next time when she's doing another section of the Camino, but she came back by our albergue on her way out of town and left us a nice note. Kathey's been chatting with her this evening on Facebook. :-)
Tomorrow, sadly, is day 11, our last day for this year's section of the Camino. We'll walk (what should be) an easy 6 miles (11 km) in the morning and draw the line this year at the town of Nájera. After we arrive, we'll take a bus further down the trail to Burgos, which we're looking forward to seeing. It's a fairly big city that's supposed to be another highlight of the Camino, and when we continue from Nájera next time, we'll get to it after about four days (funny that it only takes an hour by bus). After spending tomorrow night in Burgos, we'll take the train on Friday down to Madrid, stay the night there, and finally fly home non-stop from Madrid on Saturday.
But don't go away just yet! We have more posts to come, including our thoughts about the Camino in general, and notes on what gear worked and what didn't. And if we didn't completely scare you off with the post on Day 9, some info on how you can start thinking about joining us next year. :-)
Every grocery store should have a section dedicated to hanging pork.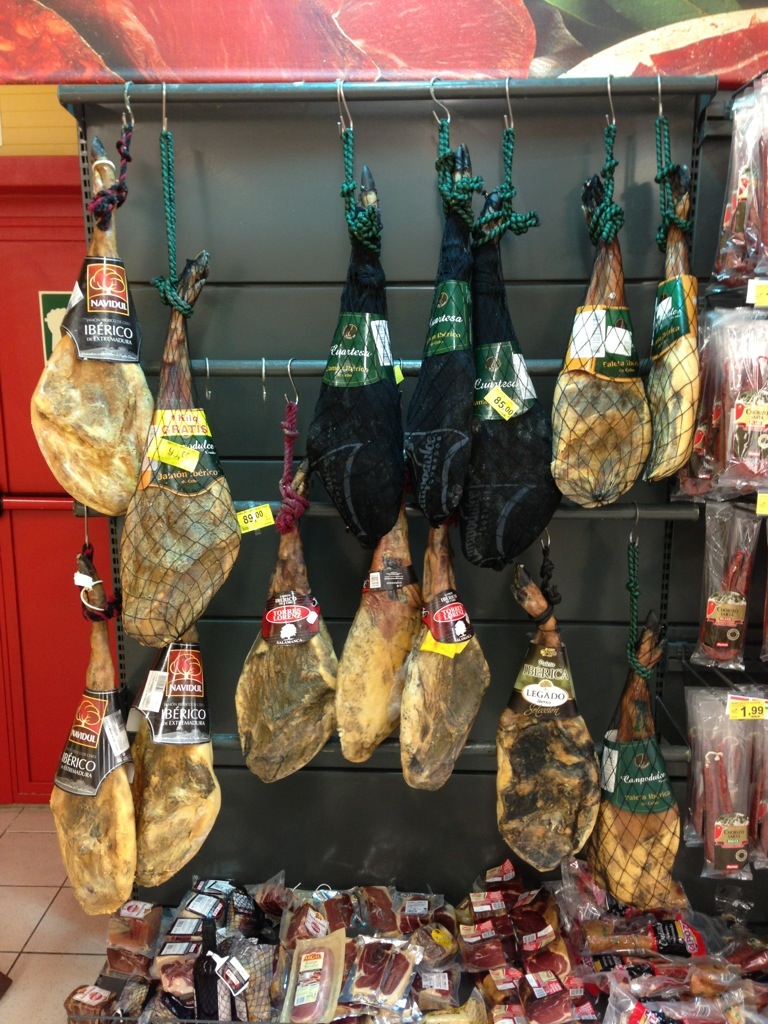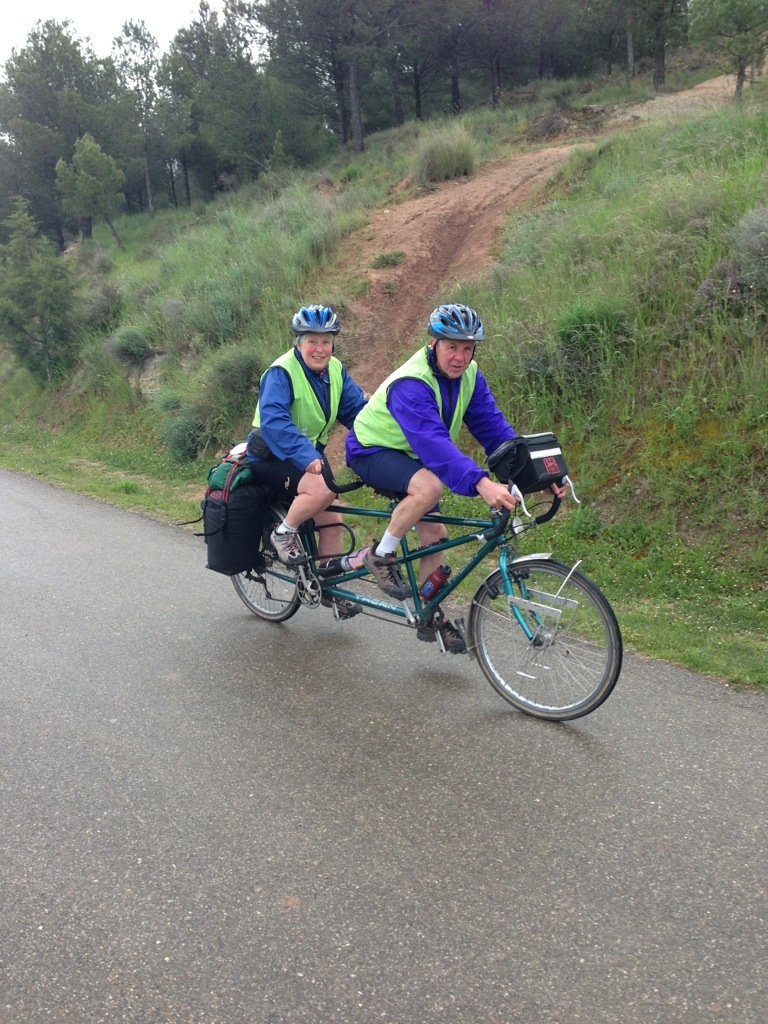 These guys were out fishing at a lake we walked by. They were well-prepared and having a fun time of it.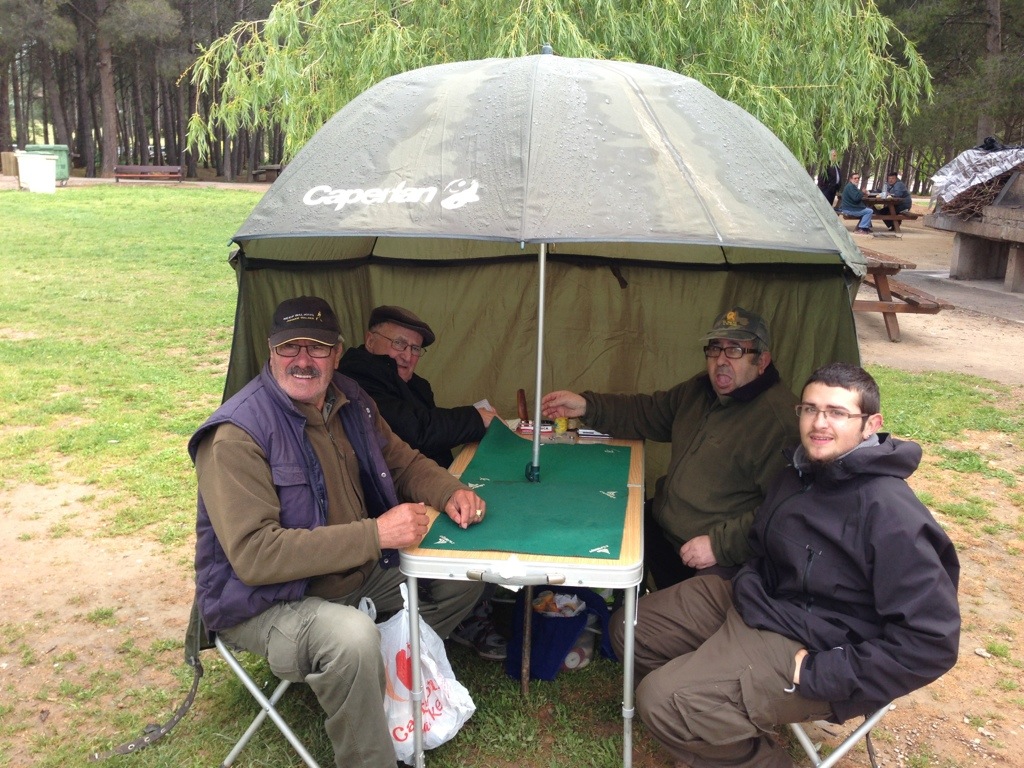 This guy had all kinds of food and hot drinks for pilgrims, and was only asking for donations.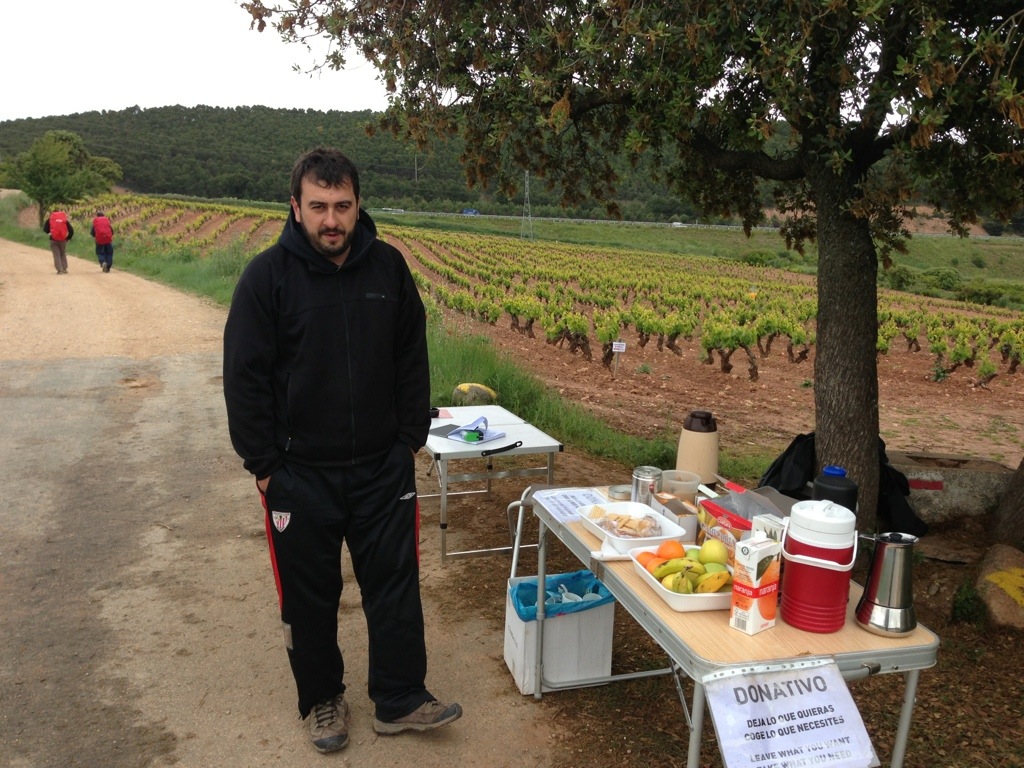 We soon walked by a long area where pilgrims put crosses on the fence with sticks.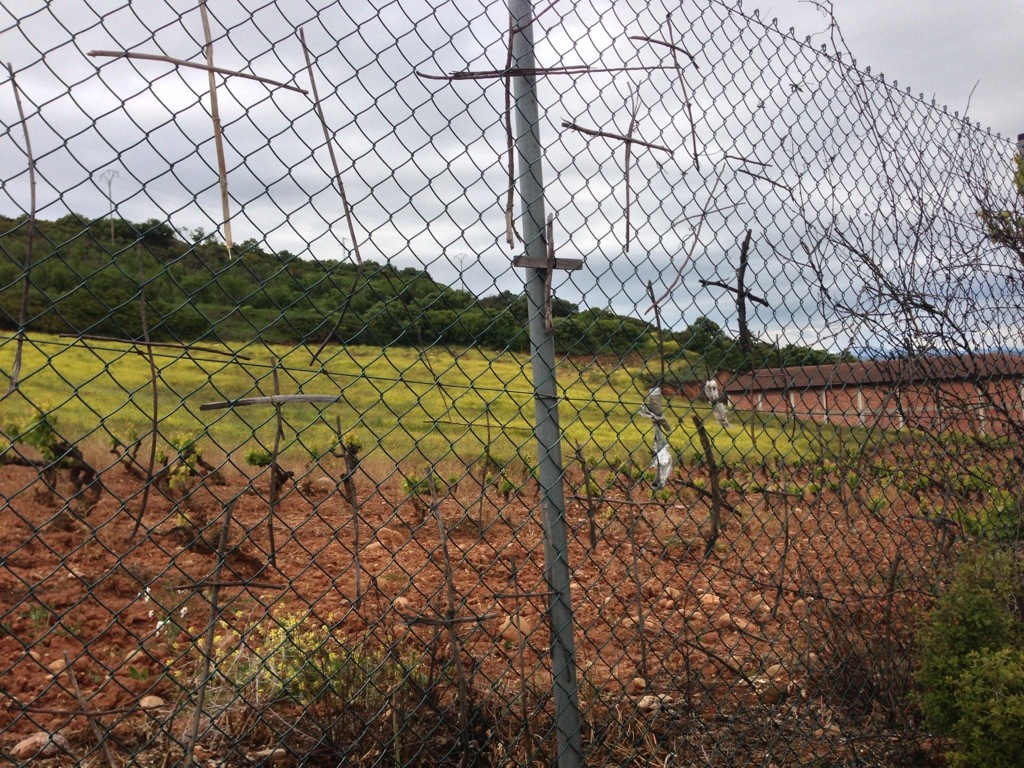 Brídín and Kathey, after adding their crosses.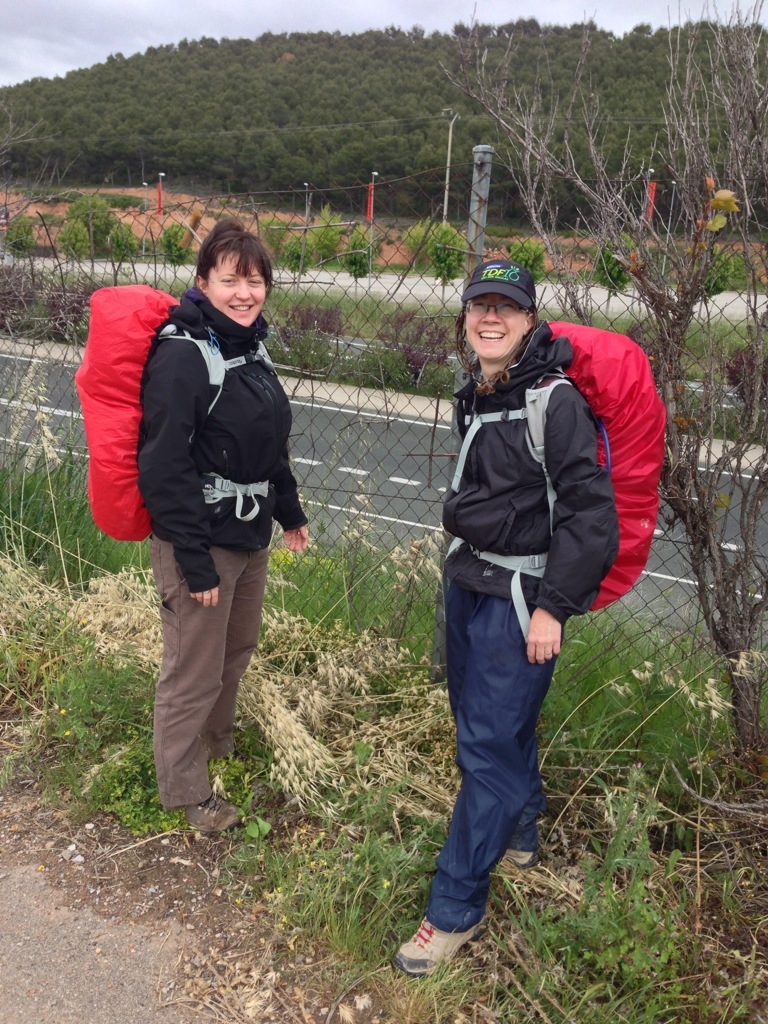 Poppies and grape vines.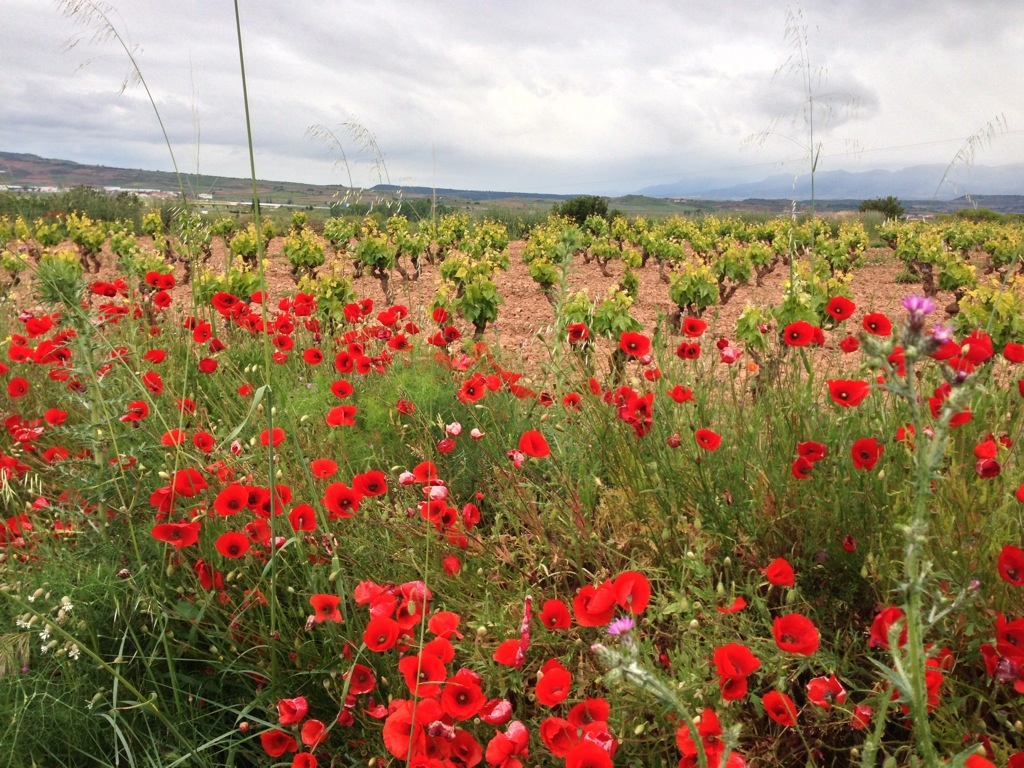 Matching backpack covers!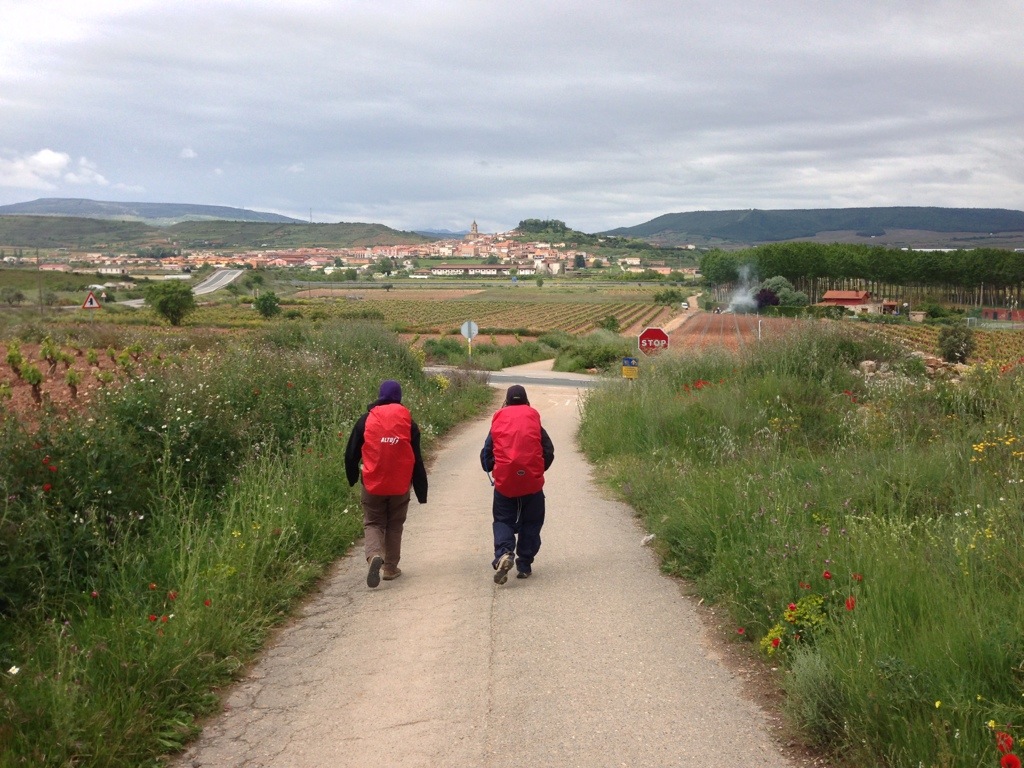 Coming into the town of Navarrete.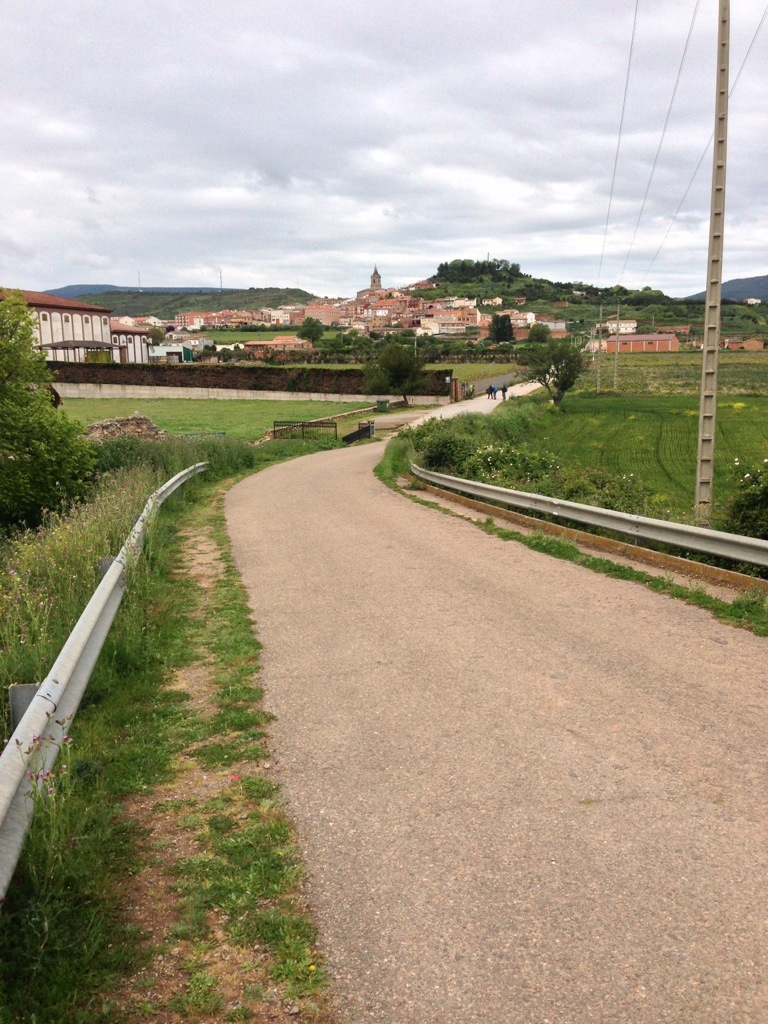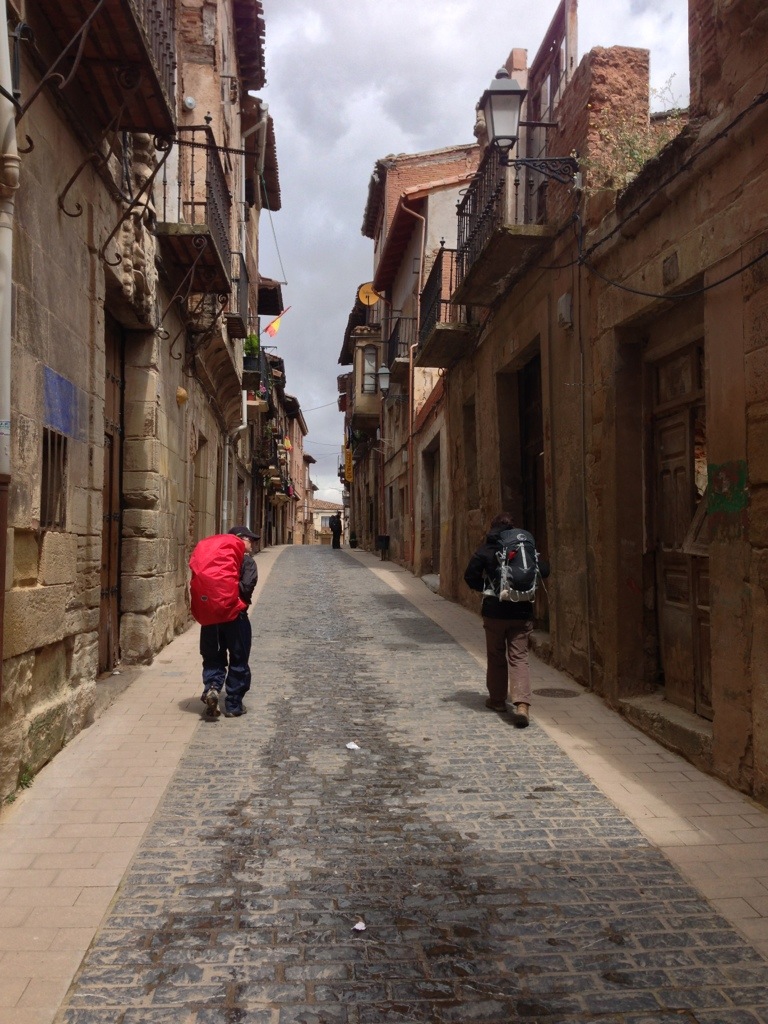 The Iglesia de La Asunción, with an impressive Baroque retablo. Drop a coin into a box on the wall and see it lit up in lights! :-)