Today we walked 9.1 miles (14.6 km) and ascended 2,300 feet (700 m) of elevation in 5 hours with breaks.
We began the day at 6:15, our earliest start yet, determined to beat the heat. The sky was just beginning to change from black to dark blue, and it was a pretty time of morning with the street lights still glowing.
We've been walking on fairly flat, small side roads for the past couple of days but after about 3 hours we passed the village of Herrerías and switched onto a dirt path that promptly slanted sharply upwards. The mountain was beginning.
The climb up to O Cebreiro turned out to be a case of something sounding worse than it actually is. It only took us about an hour to climb up to La Faba, and then another 40 minutes each for the sections up to La Laguna and O Cebreiro. It was mostly a wide dirt path with some scattered rocks, and since it was another dry, sunny day, there was no mud to deal with. The views were stunning as we popped out suddenly above the trees, and we could almost hear the birds chirping and the cows mooing over the sound of our own panting. :-)
The little town of O Cebreiro seems to be building more guesthouses than the guide books can keep up with, and has a bit of a ski-village feel to it, as we're seeing several day hikers and car tourists. It's also cooler up here at 4,200 feet (1300 m), with a high temperature of only 68°F (20°C) and a cold wind.
Here are the photos for today, starting just before dawn.
Coming into the village of Ruitelán, with the elevated highways in the background, connecting the mountains on each side: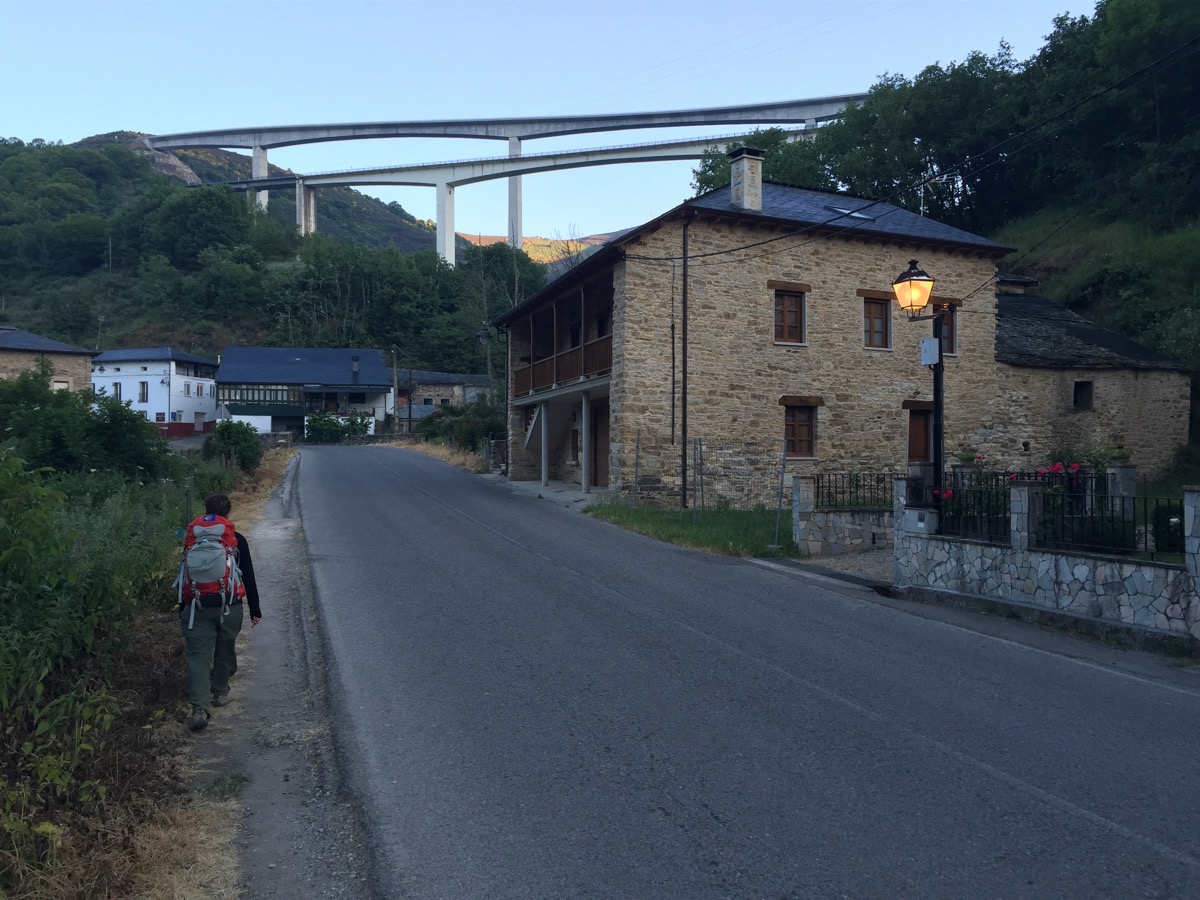 A little church, and the inside of it in the following photo: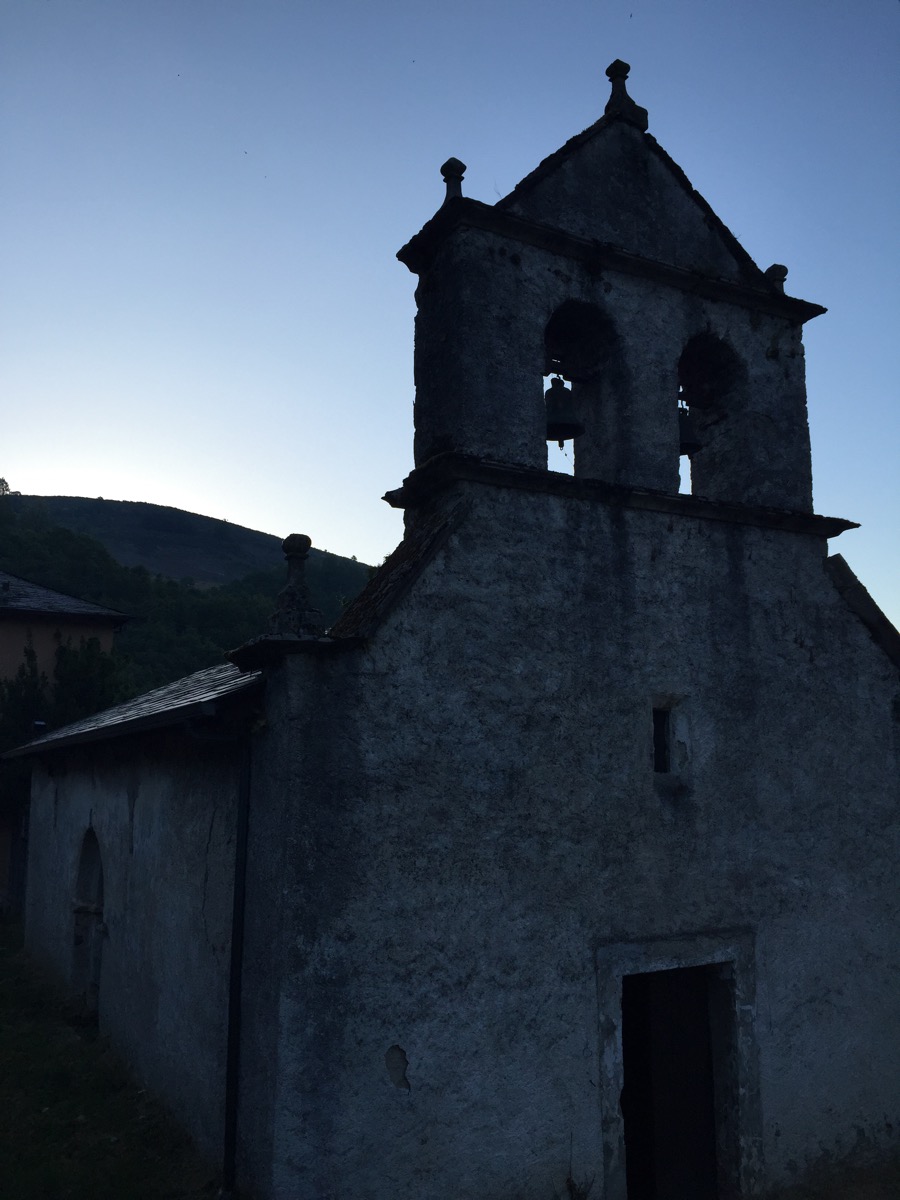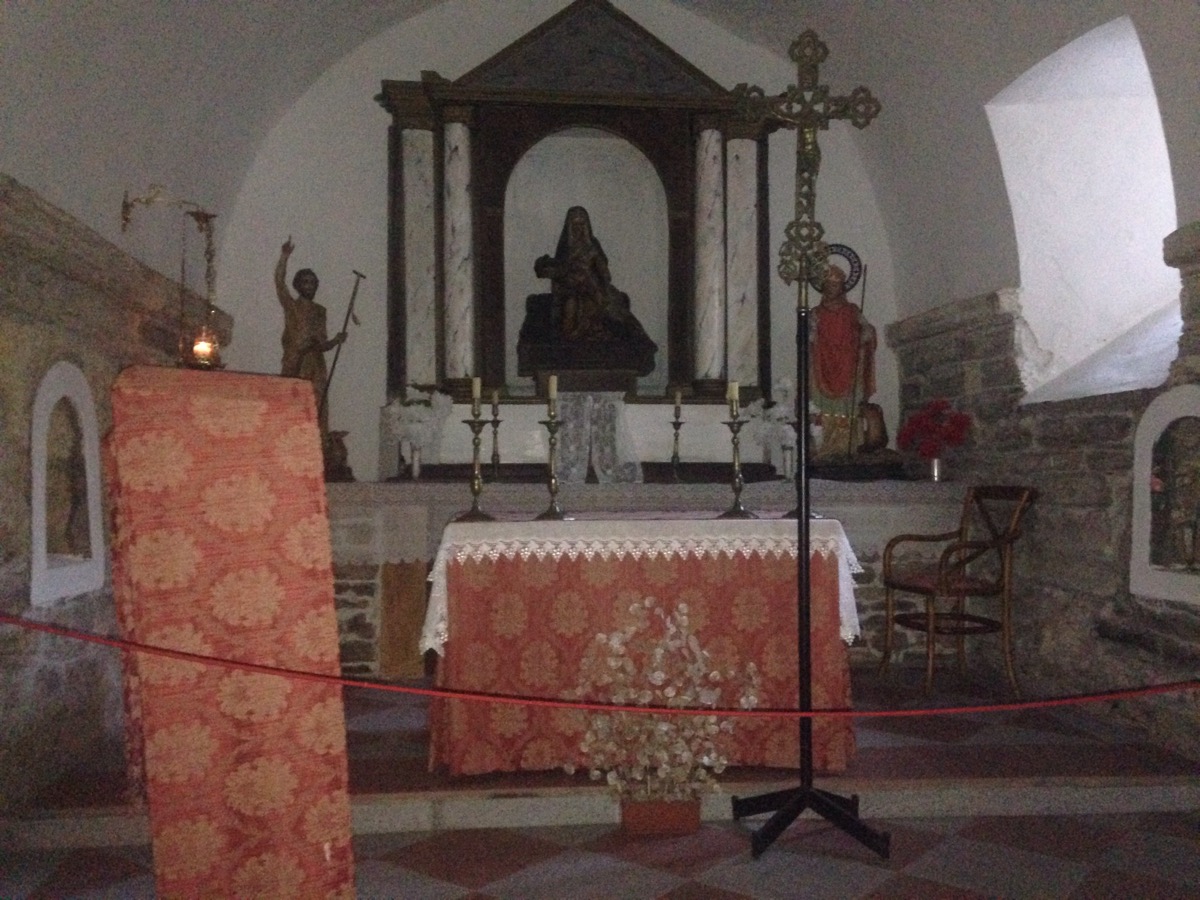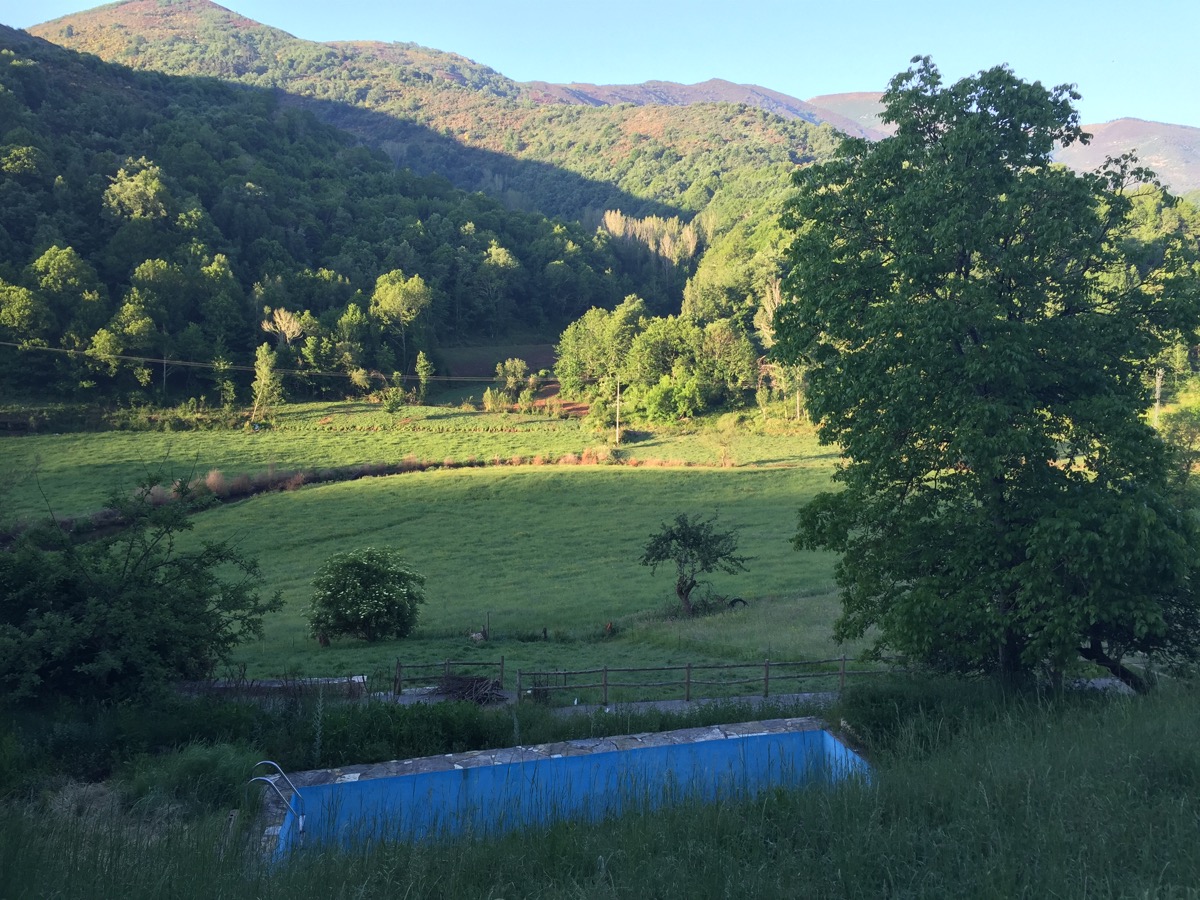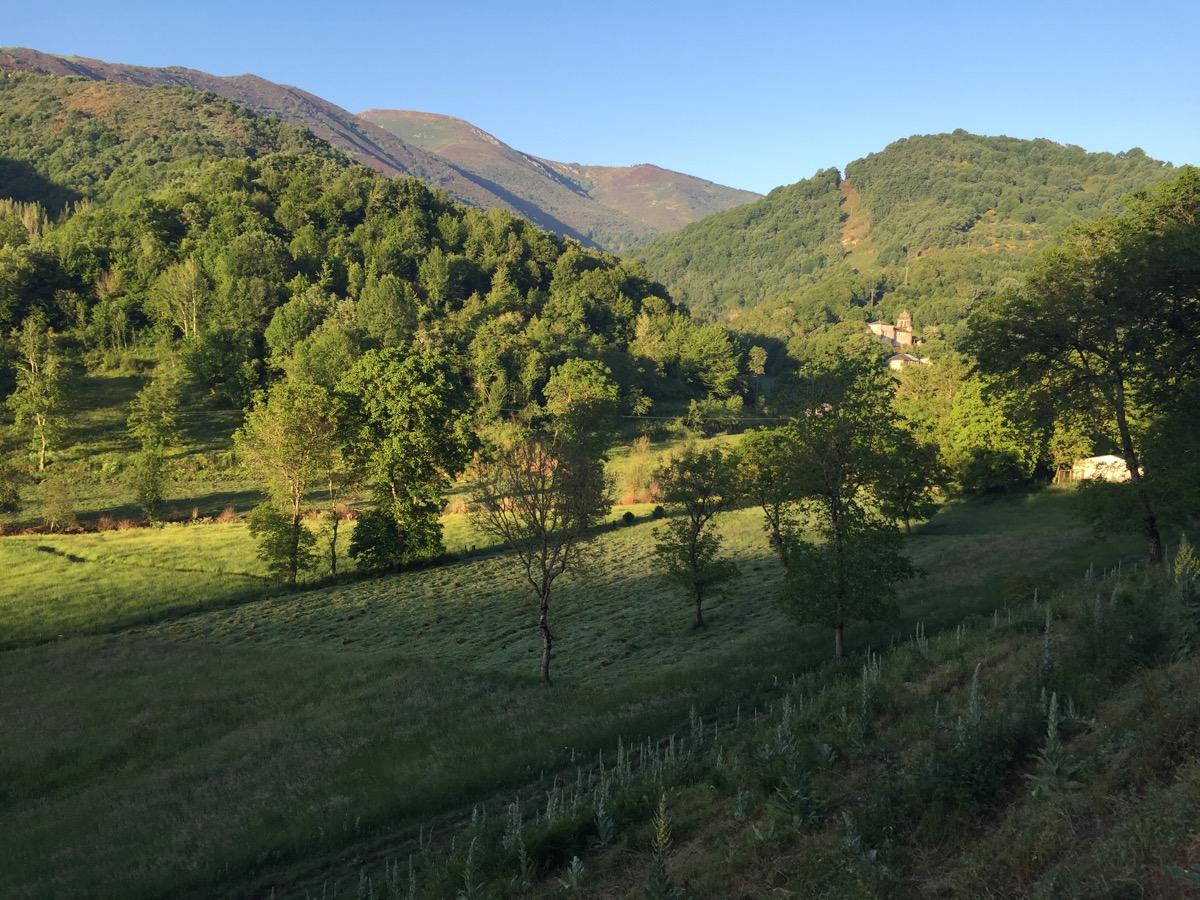 Horses having breakfast before carrying people up the mountain:

Switching from pavement onto the dirt path as the climb begins: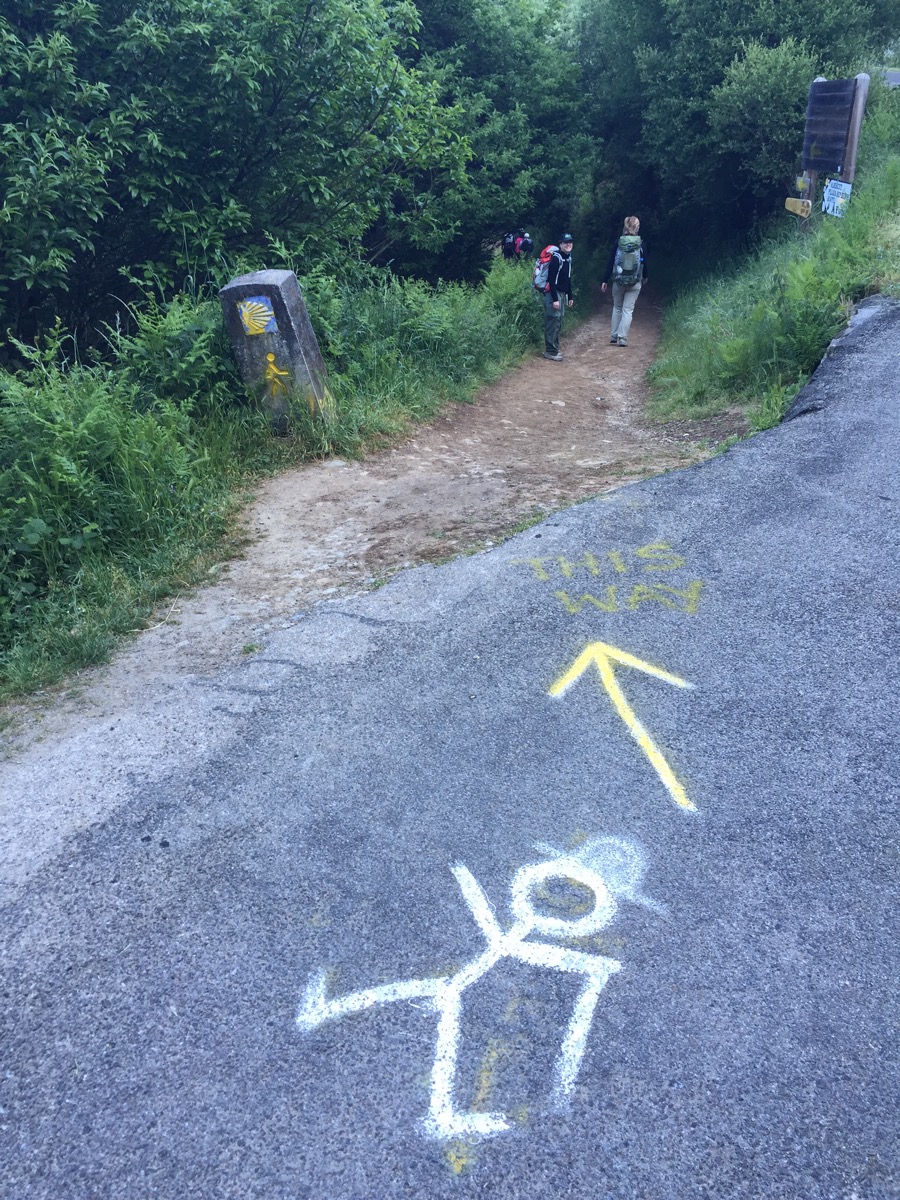 These next two photos are looking steeply upwards, although it's hard to capture with a camera: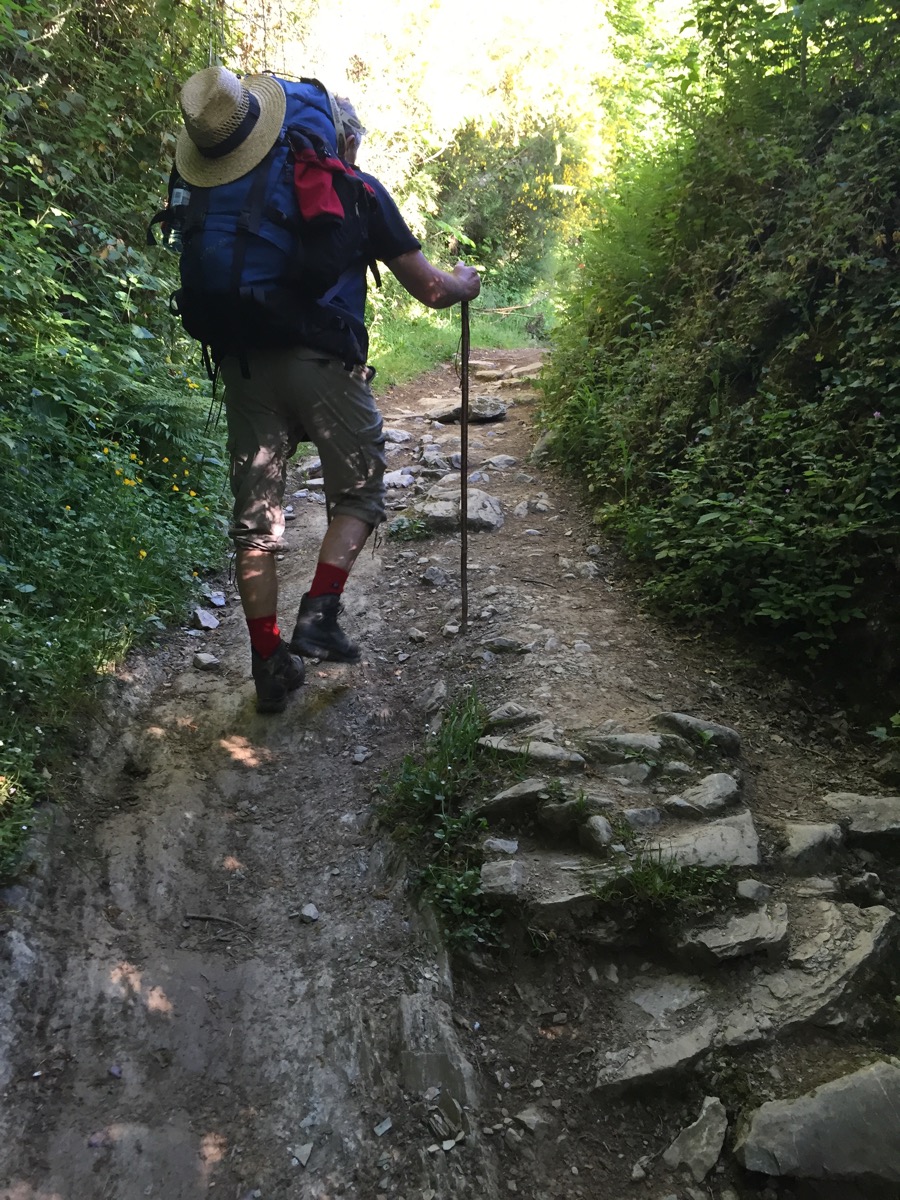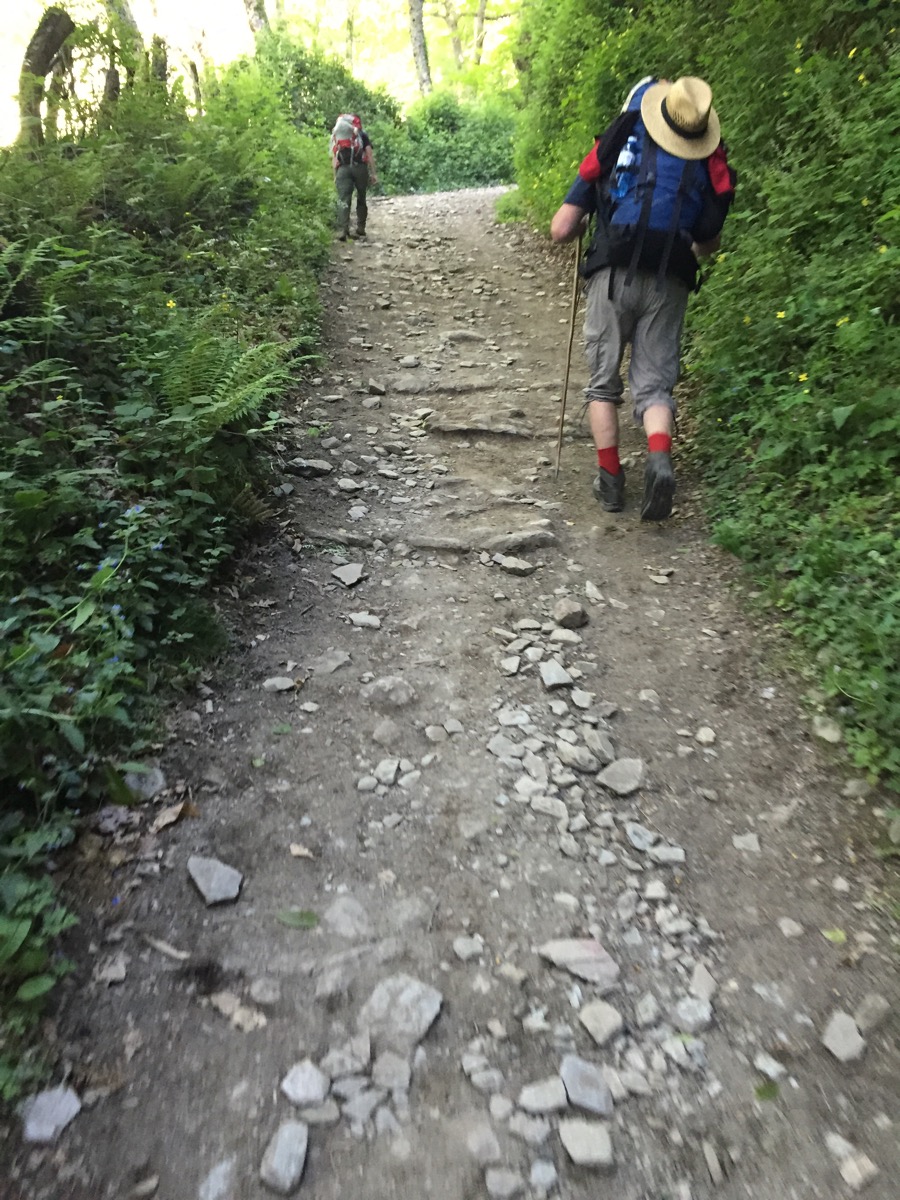 The much-anticipated marker indicating our entrance into the region of Galicia. We all let out a cheer. :-)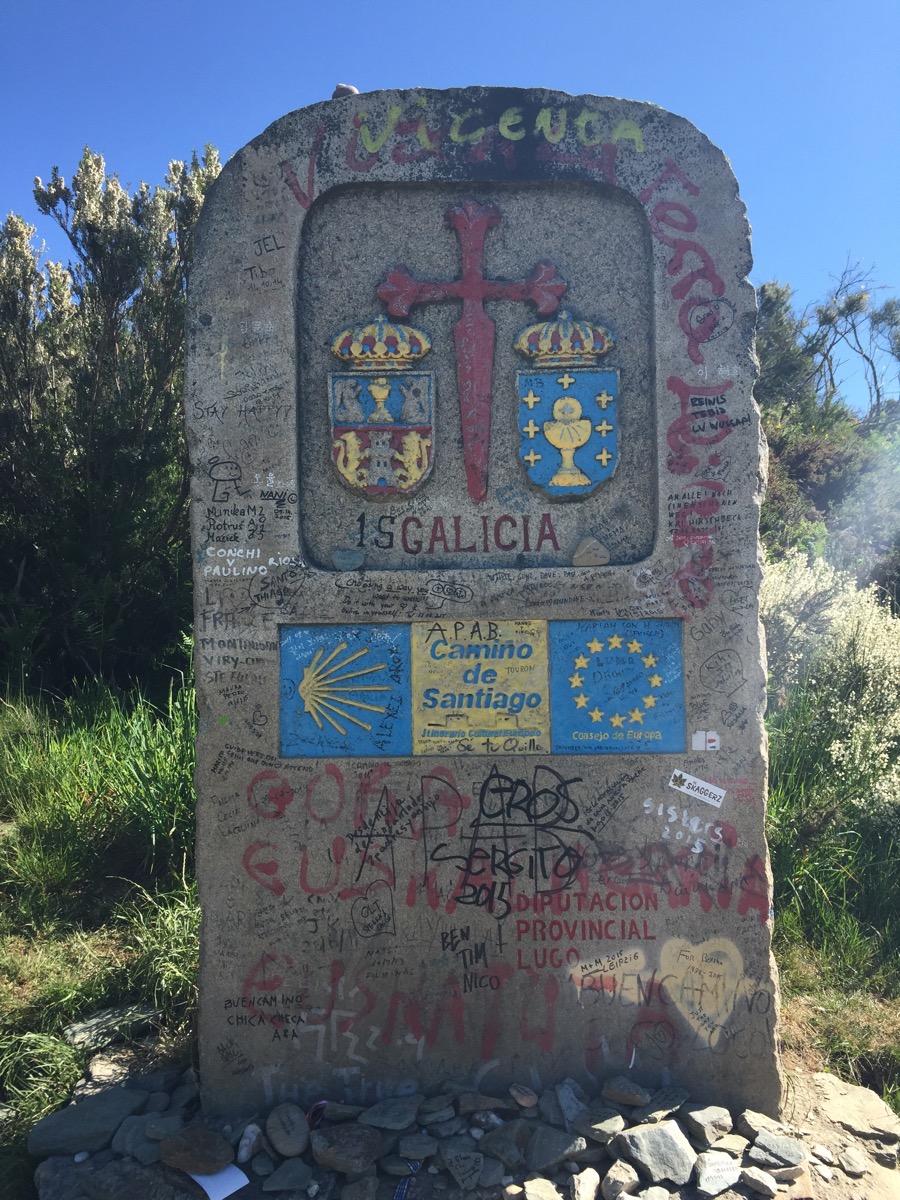 And the beginning of the cement kilometer markers showing how far we have left to Santiago. We'll be seeing these from here on: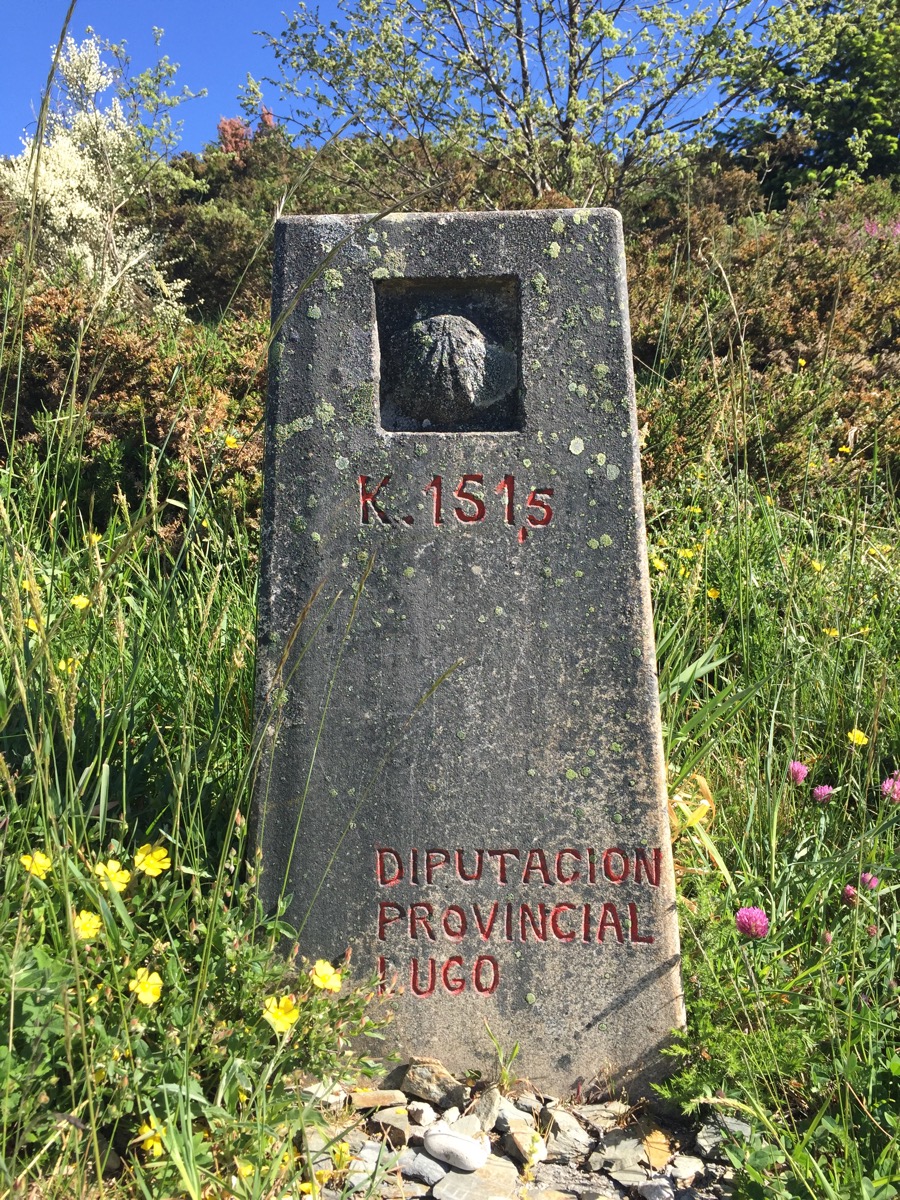 At the top!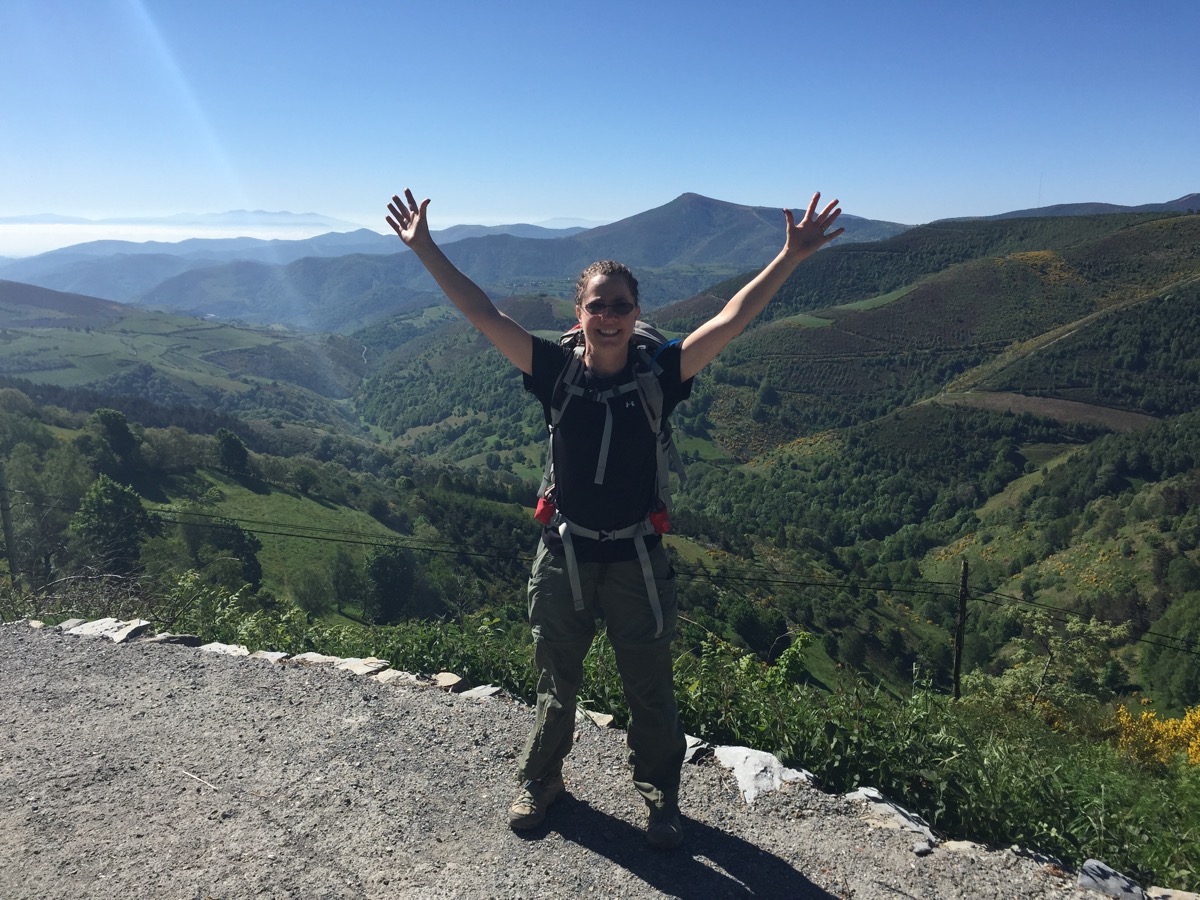 O Cebreiro is the birthplace of Father Elías Valiña Sampedro, who was an important part of the 20th-century revival of the Camino de Santiago. He was also the one said to have come up with the yellow arrows and responsible for the cement markers in Galicia.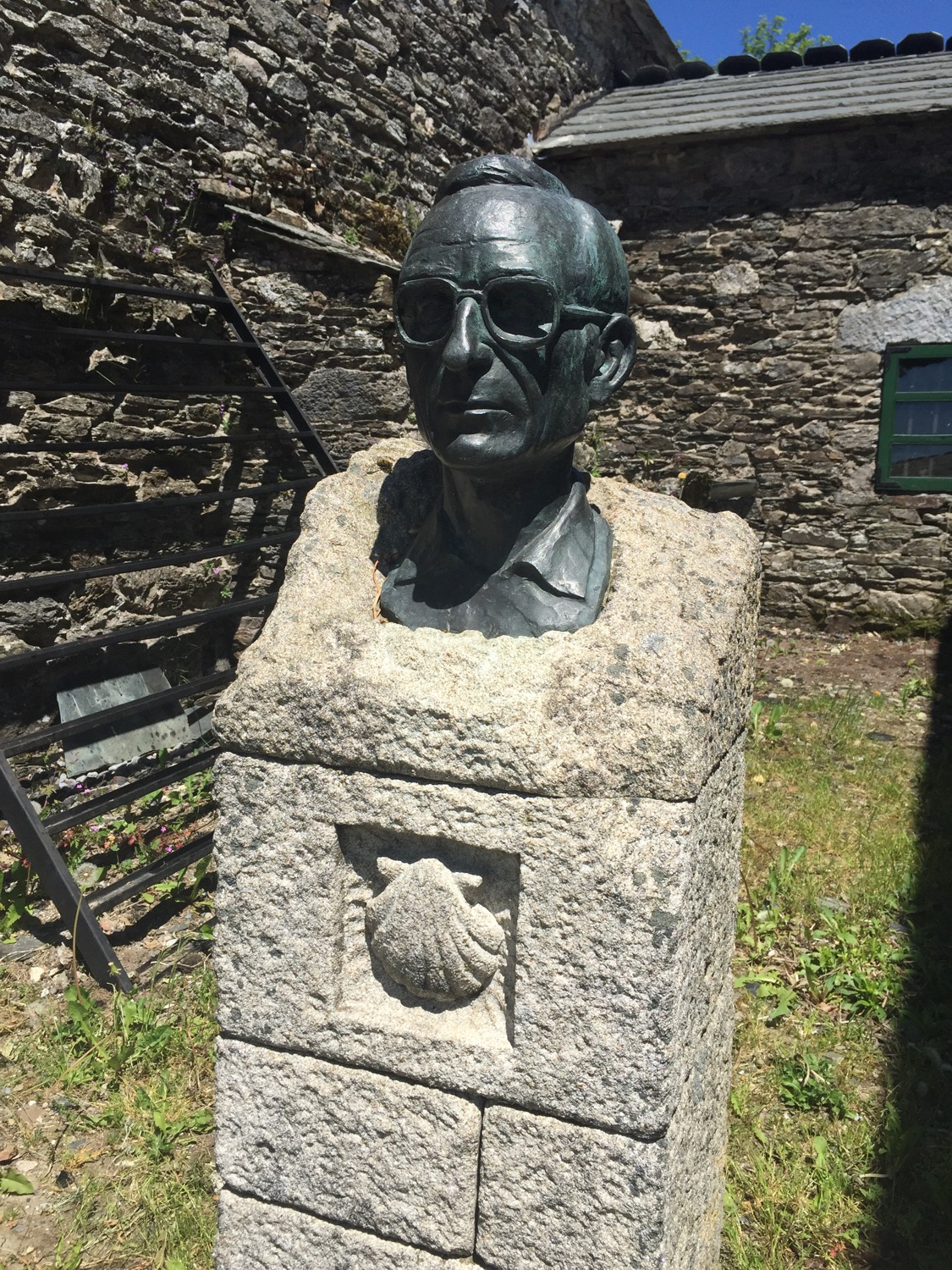 Here's a panorama looking out over the valley below. Click the photo and view a large version on a wide monitor to do it justice: