Today we walked 17.1 miles (27.6 km) in 8 hours including breaks and lunch. I don't think I've ever been this tired before.
The albergue in Los Arcos last night (La Fuente Casa de Austria) was definitely different. Kathey used the word "beatnik". It was all the same Camino people we've been seeing, but there was a definite hippy vibe going on. It was ok. I didn't sleep all that well though because some people were up late and others were up early the next morning, ruffling their bags trying to get everything into their packs in the dark.
We wanted to make it to Logroño today but it was 17.1 miles and we'd never actually walked that far with backpacks before (I'd never walked that far at all). At breakfast, people were talking about whether they could make it all the way, and whether the rain was going to continue all day or clear up in the afternoon like it did yesterday. Most people, including us, decided to give it a try, with a backup plan of stopping after 11 miles (18.4 km) in Viana. But if you decided to continue on, there were no places to stay for another six miles until you got to Logroño.
We woke to a heavy downpour that fortunately changed to a light drizzle by the time we walked out the door. It was windy and cold and damp, but we can live with that as long as we're not getting drenched. By late morning the sky was trying to clear, slowly, and we eventually even got some sunshine — but the backpack rain covers stayed on just in case one of the gray clouds decided to open up on us.
We went through the pretty little towns of Sansol and Torres del Río, and finally made it to Viana after about 3.5 hours. It was a fairly tough walk with a lot of steep hills, but I think mostly we were just hurting and tired because the past several days were catching up to us. We had lunch with an American girl from Boston named Jenny that we'd seen a couple of times before, and then we decided to push on and do the last six miles from Viana to Logroño. Nobody forced us to, and there wasn't even any peer pressure. But we wanted to make it there, and, well, I guess we're thinking a lot lately about the fact that we only have two more days before we have to close out this portion of our Camino and draw a line where we have to end it this time.
It was a long, grueling walk but at least we had mostly good weather and we hadn't gotten soaked. That is, until about an hour outside of Logroño. I heard it coming over a nearby ridge and had a bad feeling. So we made sure the passports and phones were sealed in zip-lock bags, and zipped up the rain jackets getting ready for it. But there wasn't really much more we could do. Some other friends told us later that they ducked under an overpass just in time, but we weren't so lucky and there was no place to hide. So several of us got a cold and windy drenching for about 15 minutes, and then it stopped and the sun came out again. (There was no lightning though, and we do watch out for that in the forecast.)
By the time we got into Logroño we were completely exhausted but at least all our synthetic clothing was mostly dry again and all the mud was washed off our shoes. It was a long day of cold, then hot, then windy, then sunny, then cloudy, then rainy, then hot — and everything changed like that every half hour, with no protection from any of it.
Kathey mentioned today that she thought maybe I wasn't giving a complete picture of how hard the Camino is, with all the pretty photos. So just to be clear, the Camino is hard. This first third of the way to Santiago is never flat for very long before you're going up or down a very steep incline. The ascents are tough on the heart, lungs, and legs, and the descents are tough on the knees. I'm not sure which is worse — it depends on which one I'm doing when I'm thinking about it.
We're seeing a lot of bandaged toes now, as people are starting to get some serious blisters. Kathey even got one today on her heel. Some people are sending their packs on ahead via a delivery service and some people are taking taxis forward to the next town when they can't make it any further that day. Hey, at least they're out here, so I'm not going to judge them. Some are quite a bit older than us, and some have old injuries that make it hard for them to carry a pack all day.
If you think your training will let you breeze through the Camino, you're wrong. If you think you can predict the weather and what kind of equipment will be best for all conditions, you're wrong. If you think you won't have times when you think you can't go any further, you're wrong. The Camino is hard.
But we all love it anyway. Buen Camino!
And here are the pretty photos for this super long day. ;-)
About a week ago, we left Los Arcos this morning in windy light rain.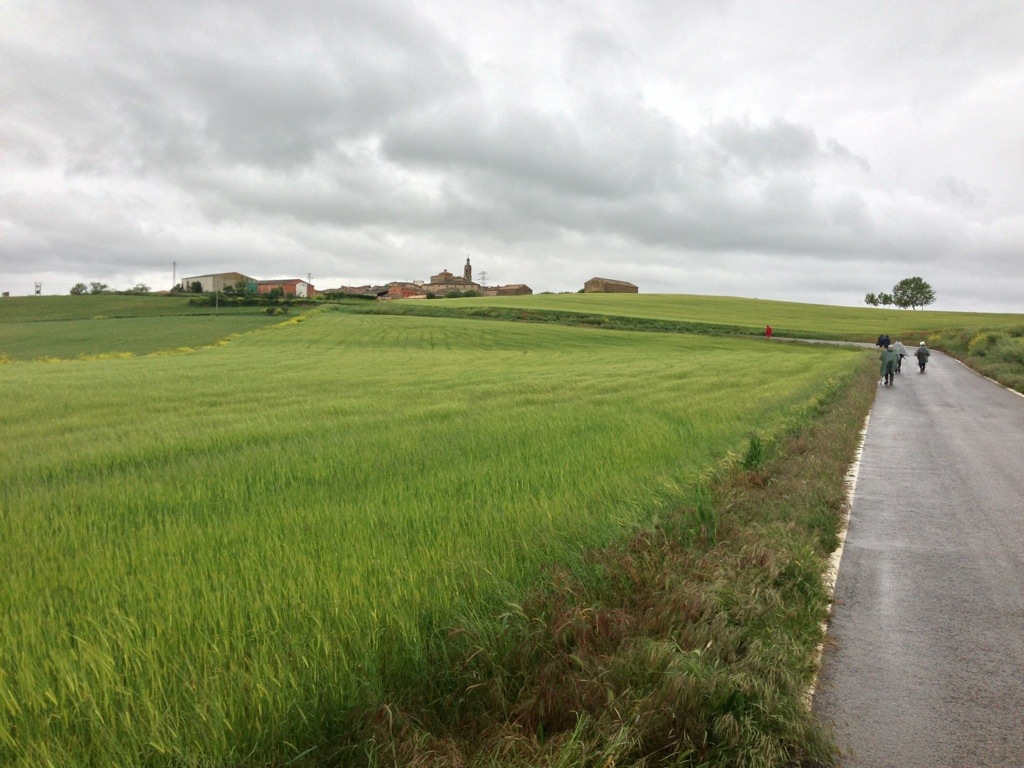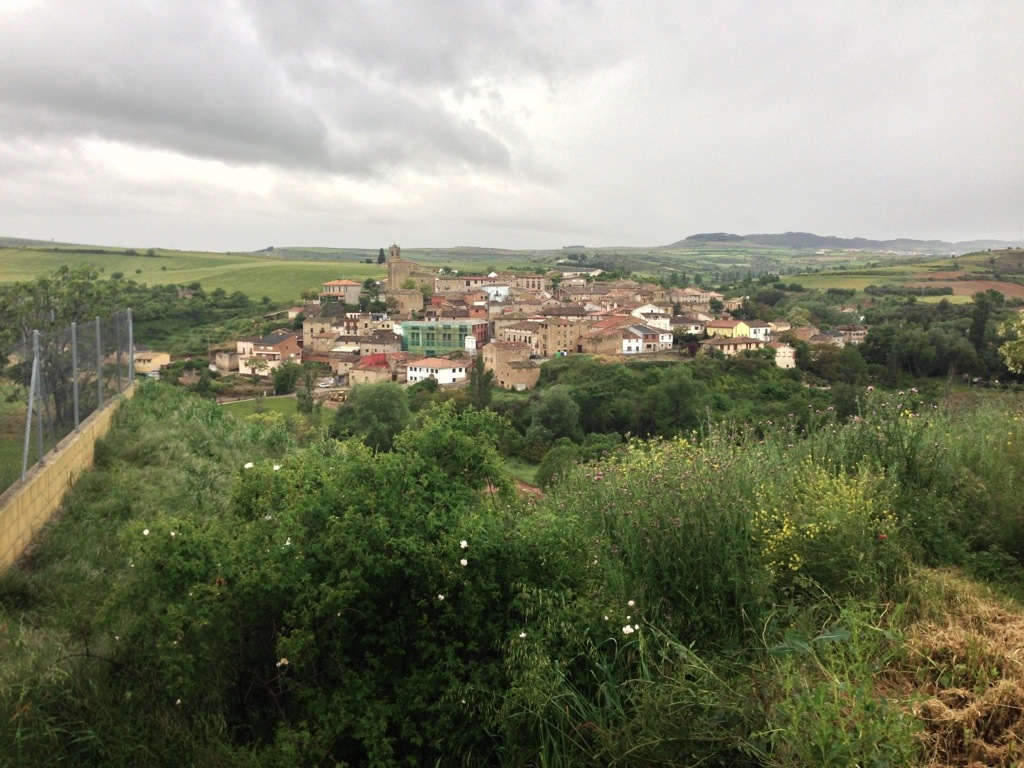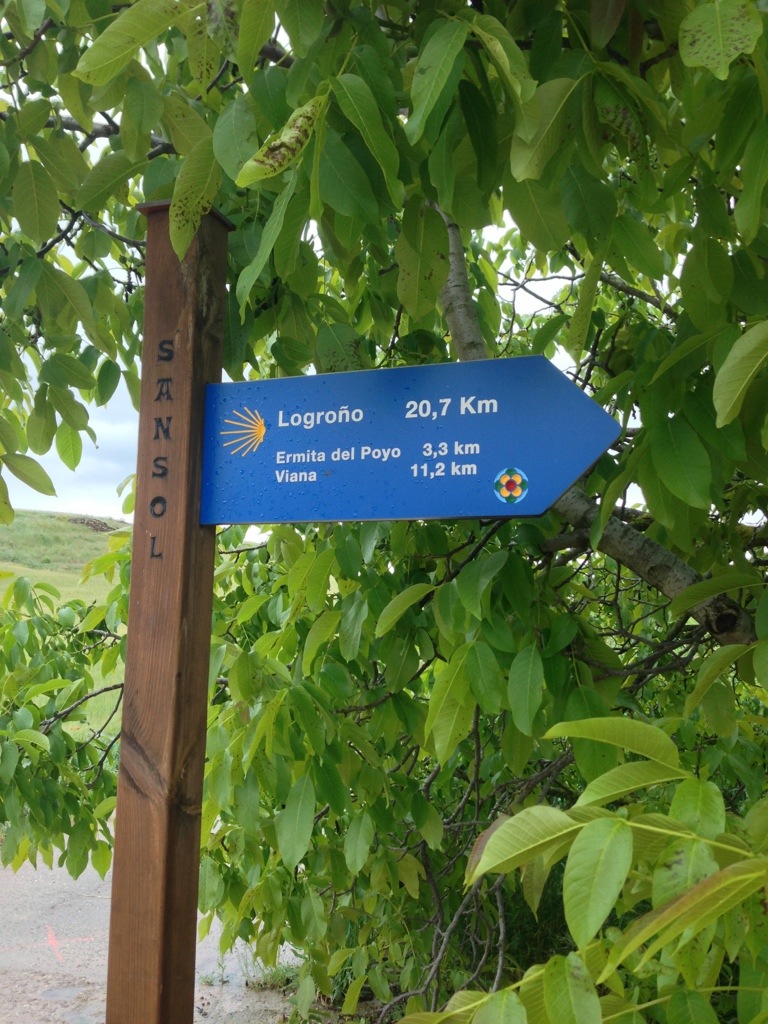 The sun finally came out a bit in the late morning.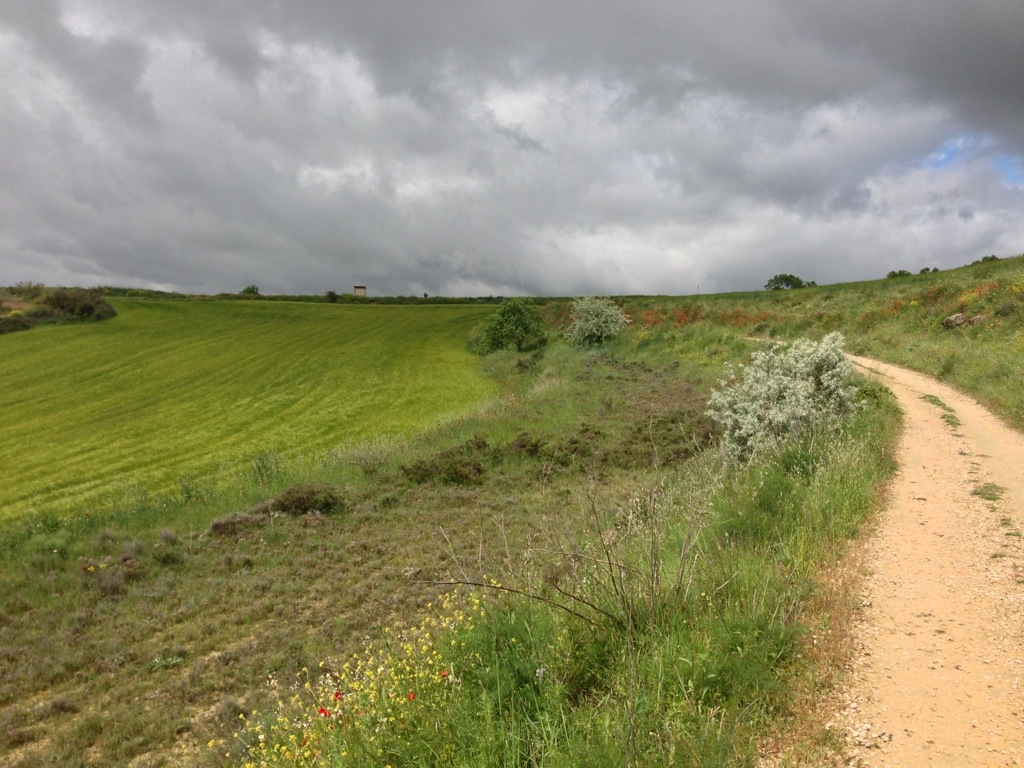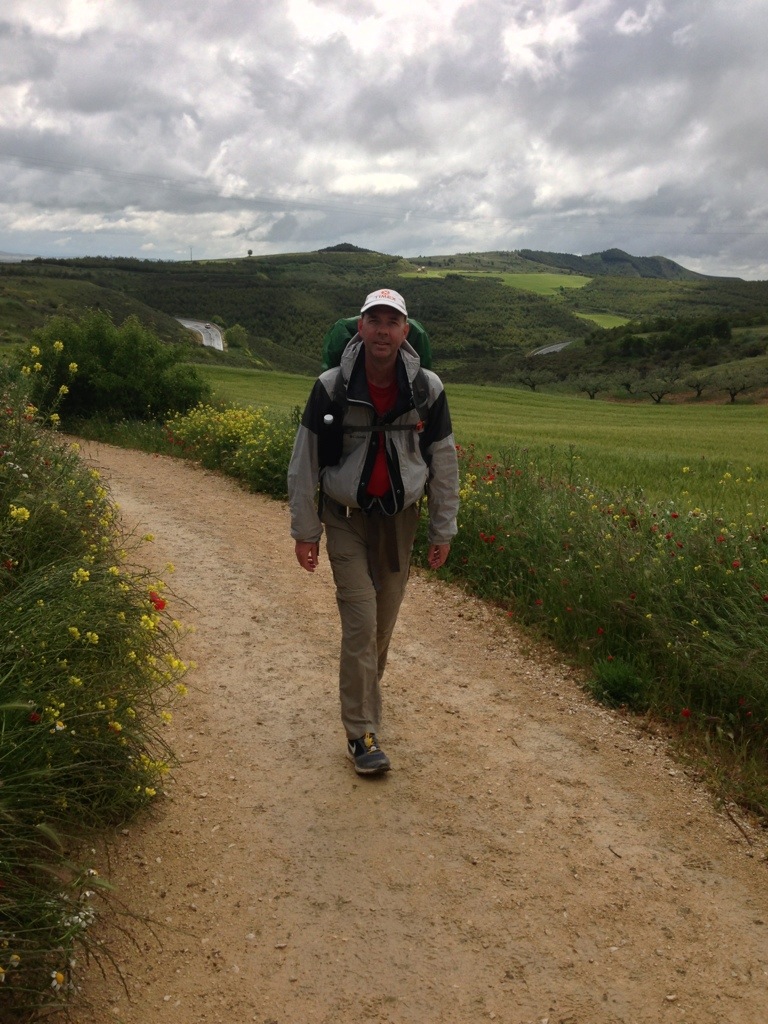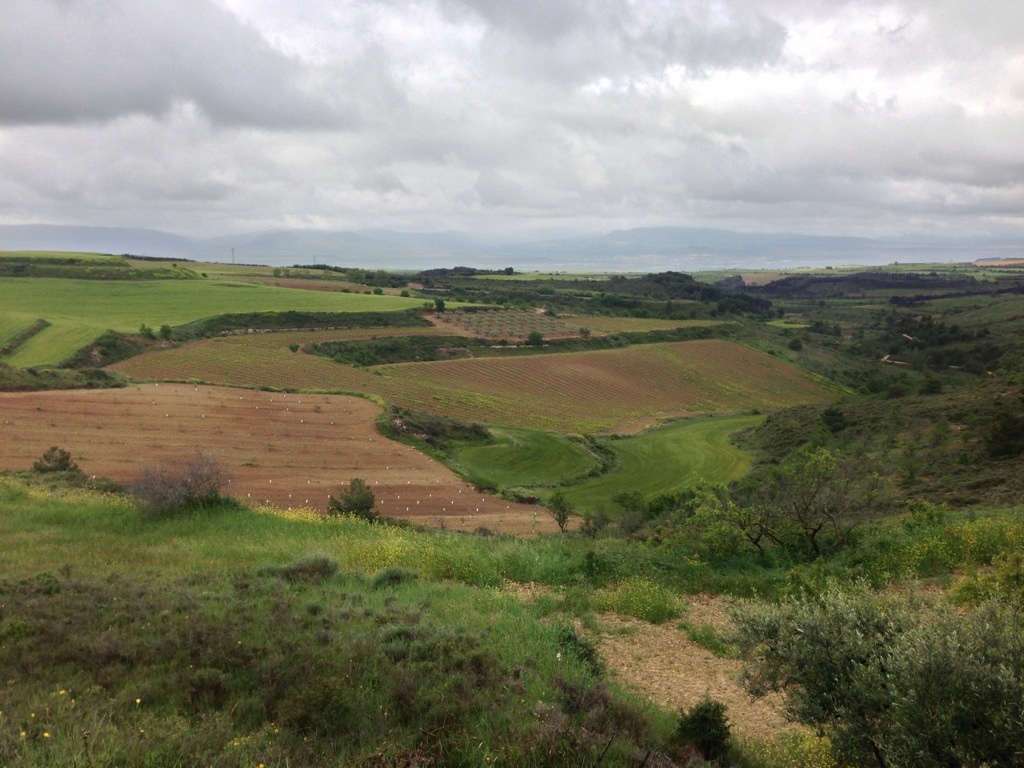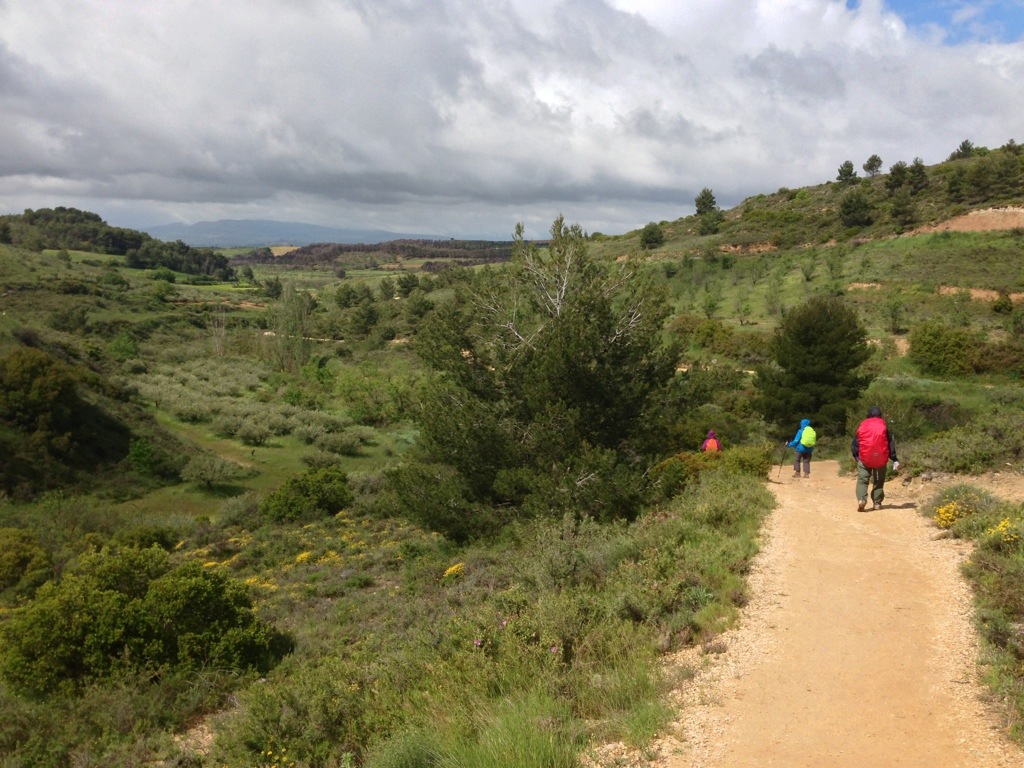 Walking through Viana before the final six mile stretch.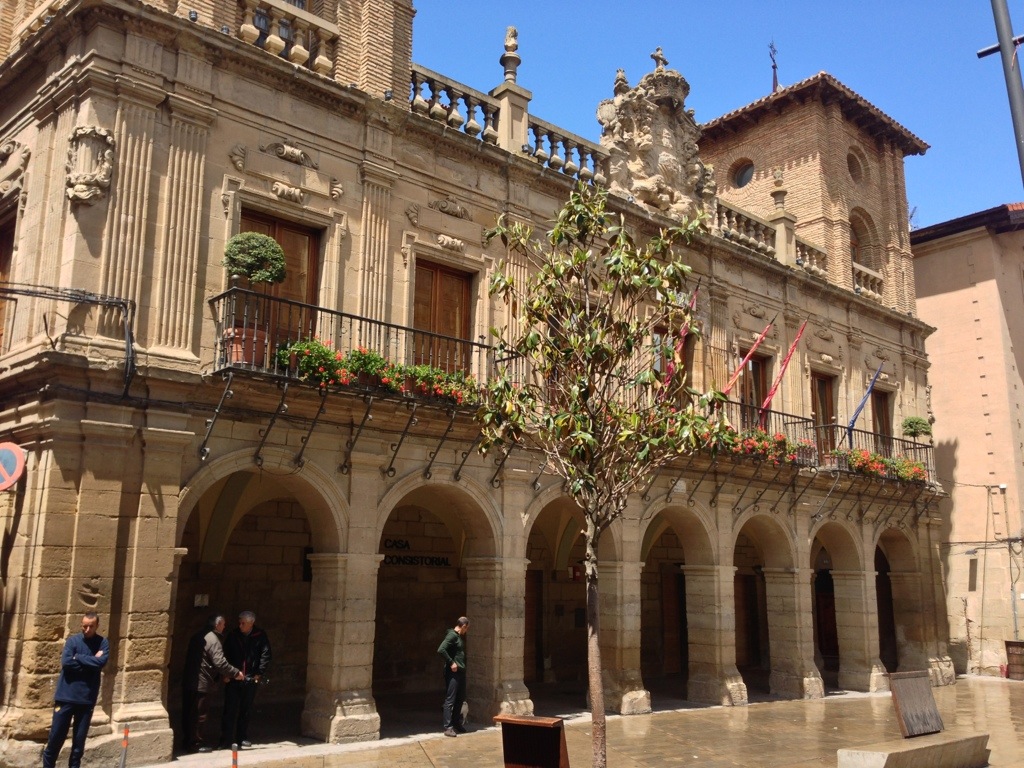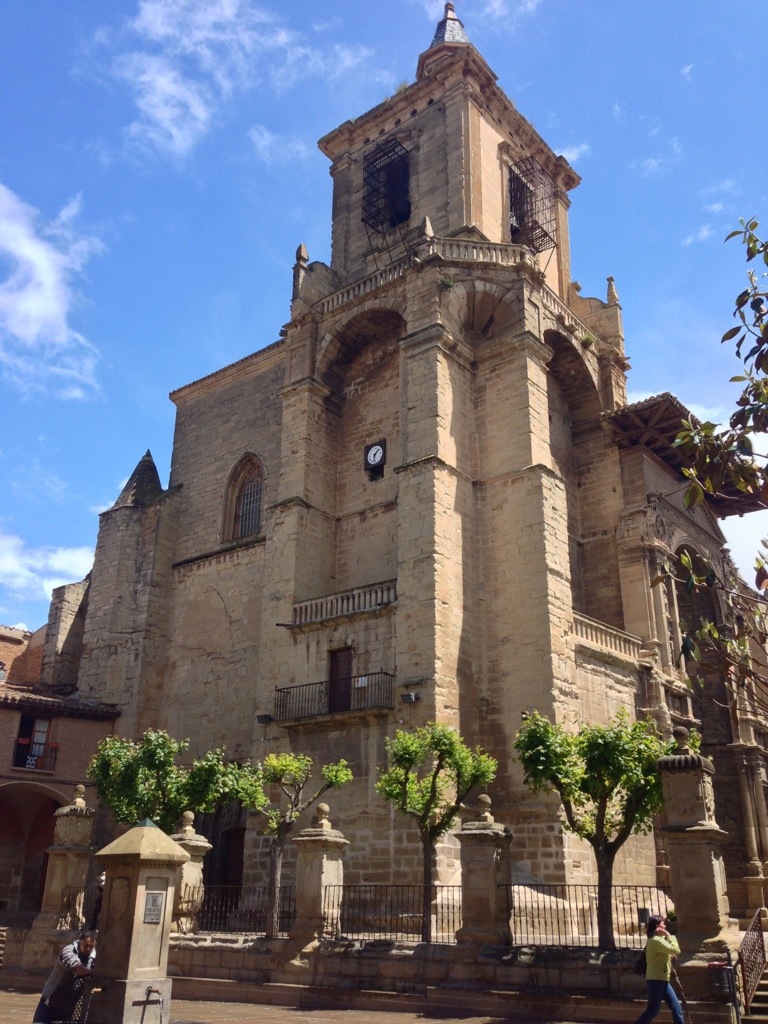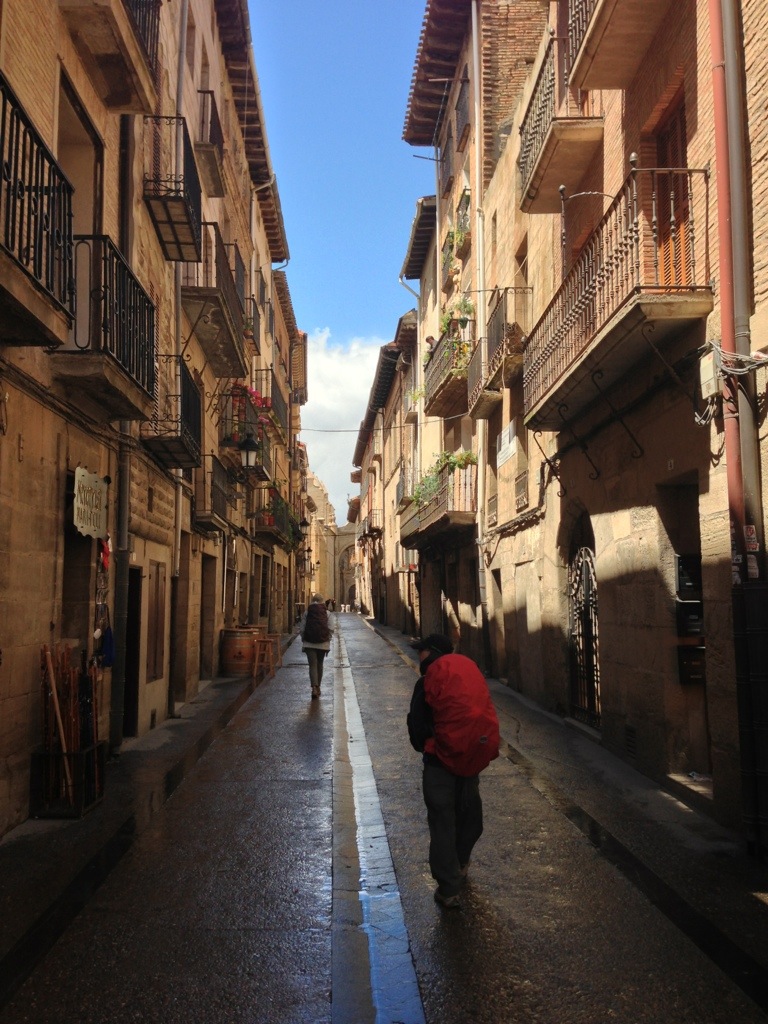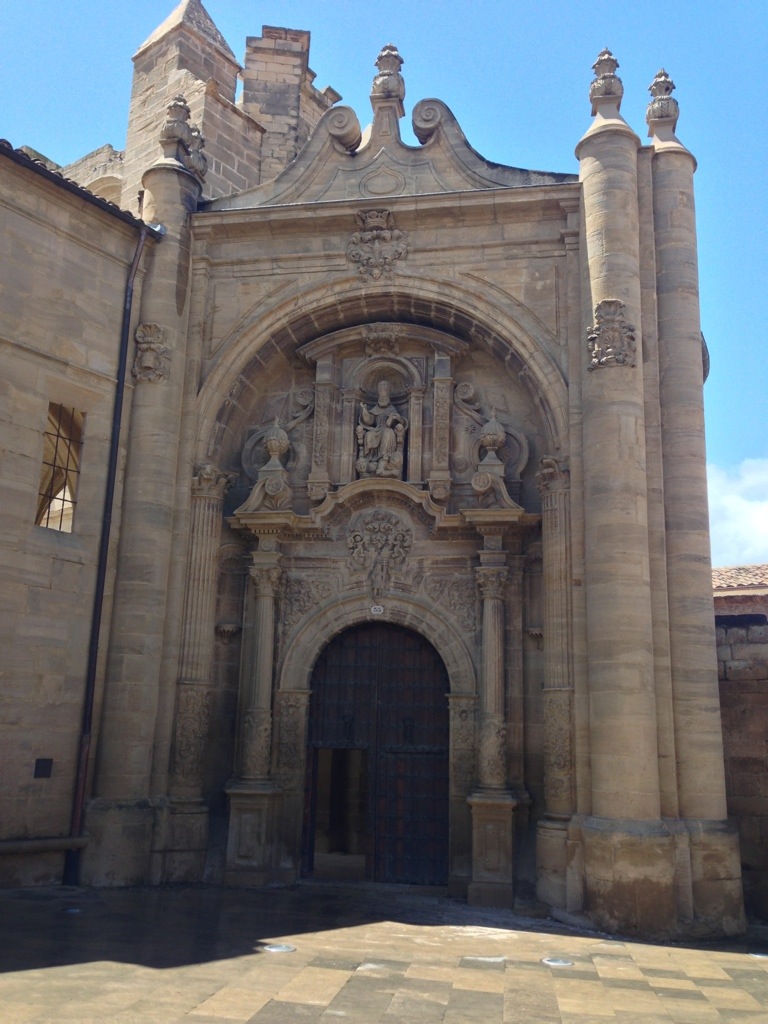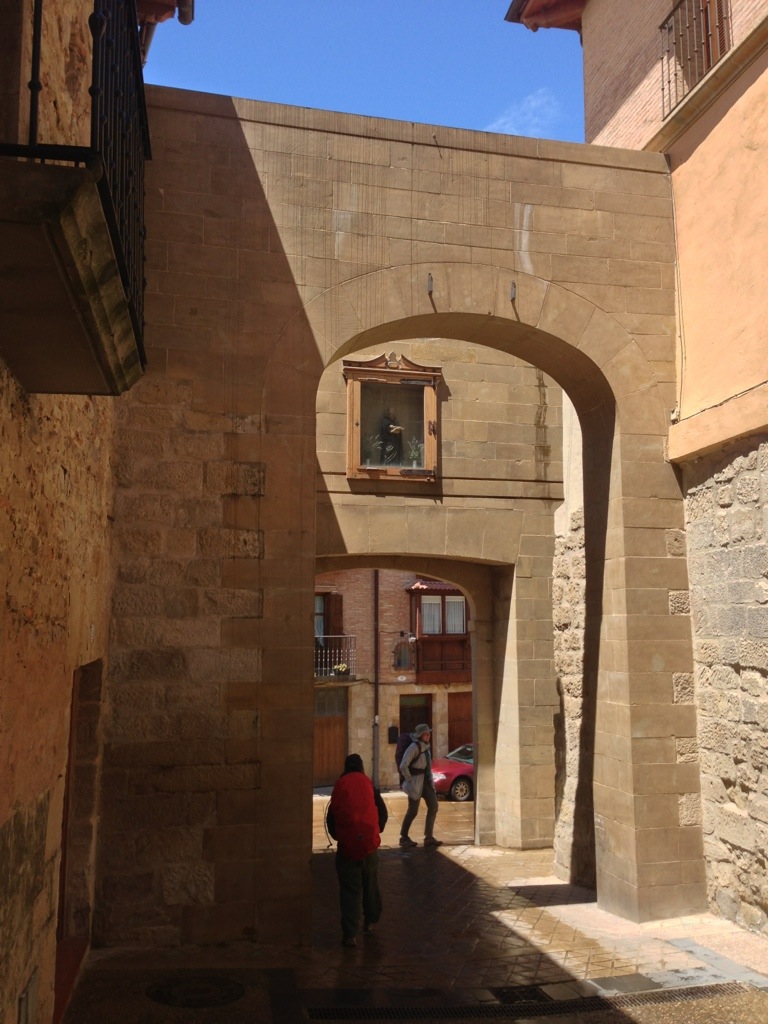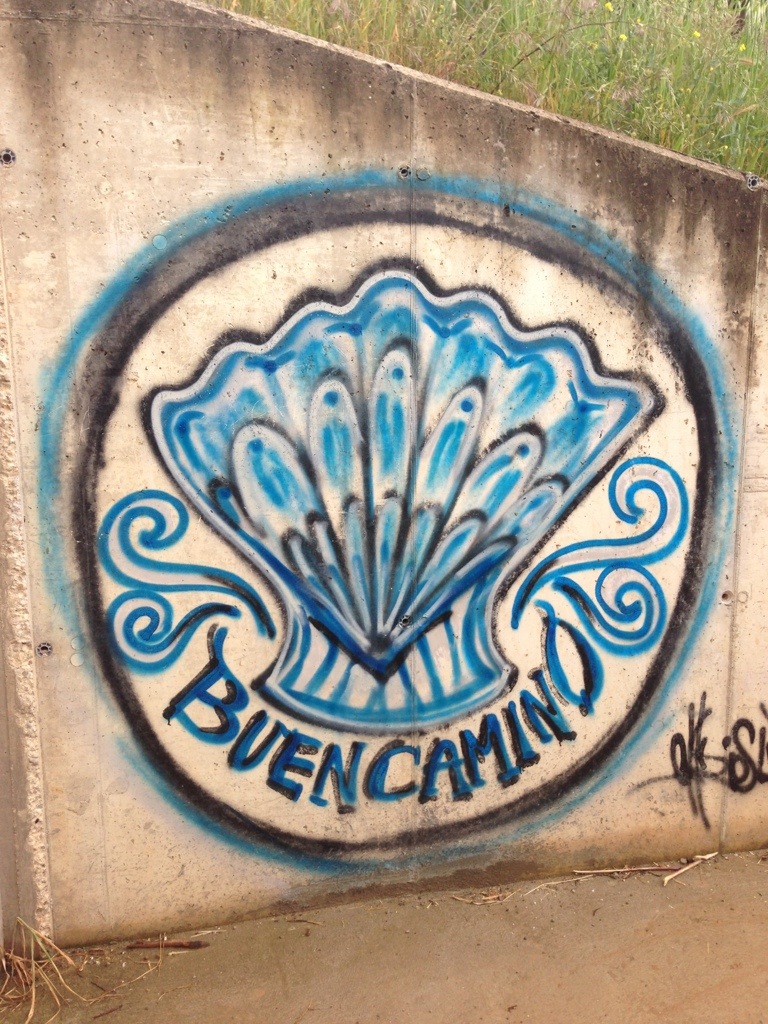 Kathey tried to find a good way around the mud-swamp, but she failed. There wasn't one.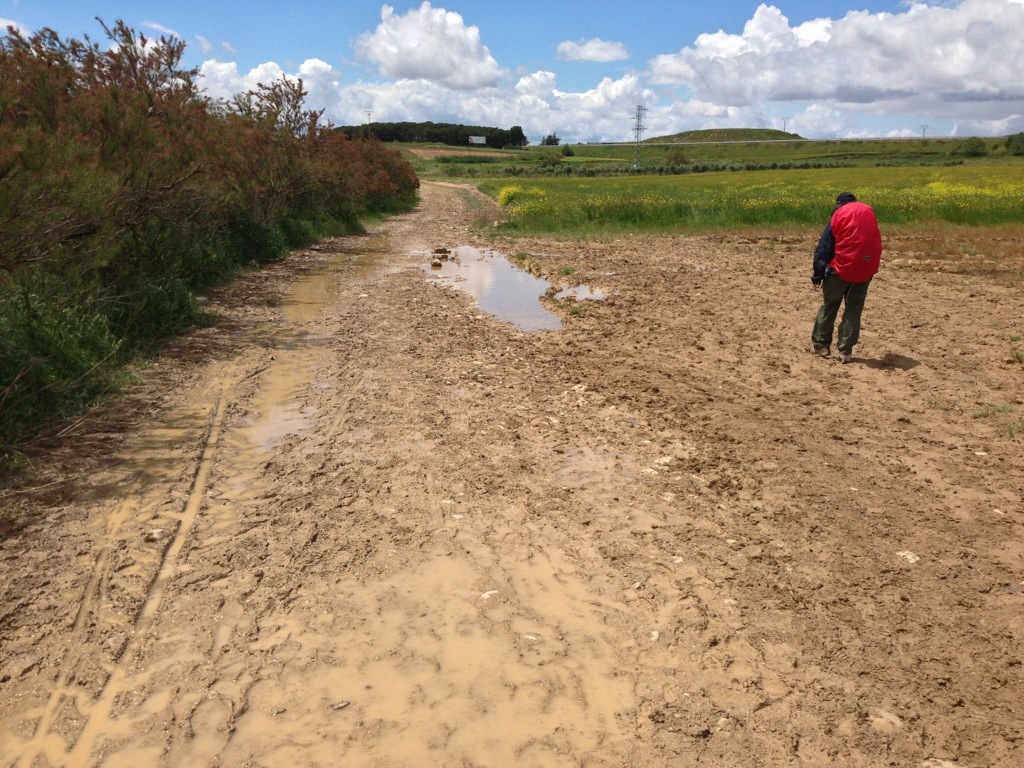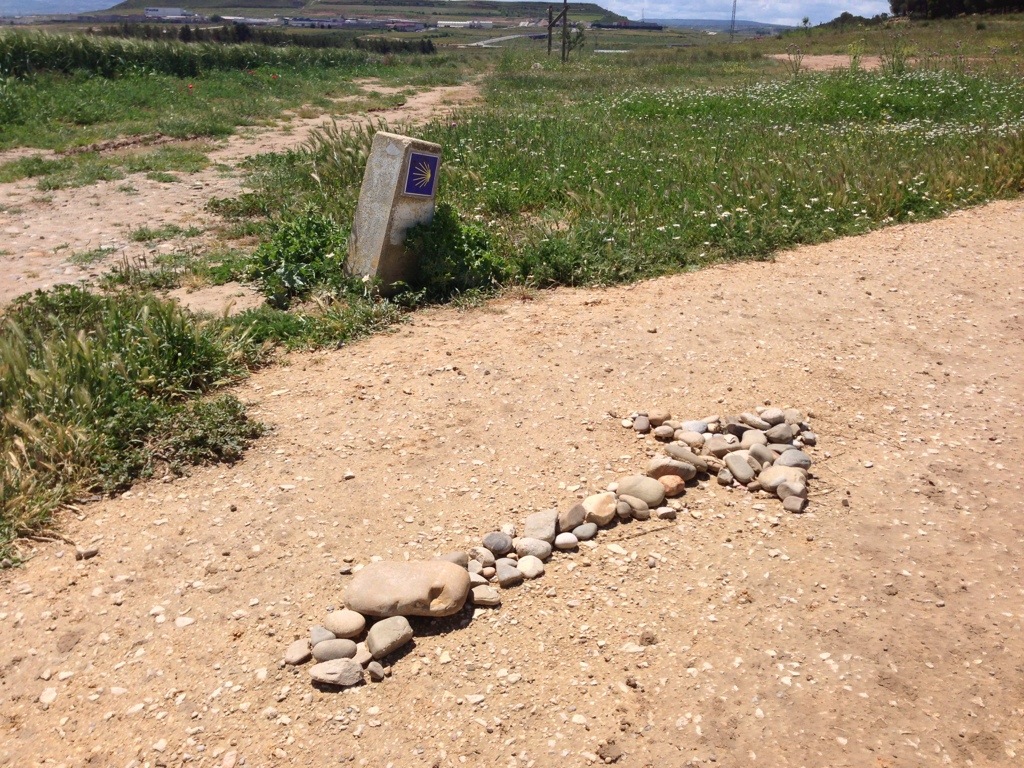 That storm in the background below is the one that dumped on us a few minutes later. Also, our friend Victor from the Basque Country told us that the sign on the bridge (written in Basque and Spanish) says that there will be a general strike in the Basque Country on May 30th. Fortunately we were already in Logroño by then, so it didn't affect us.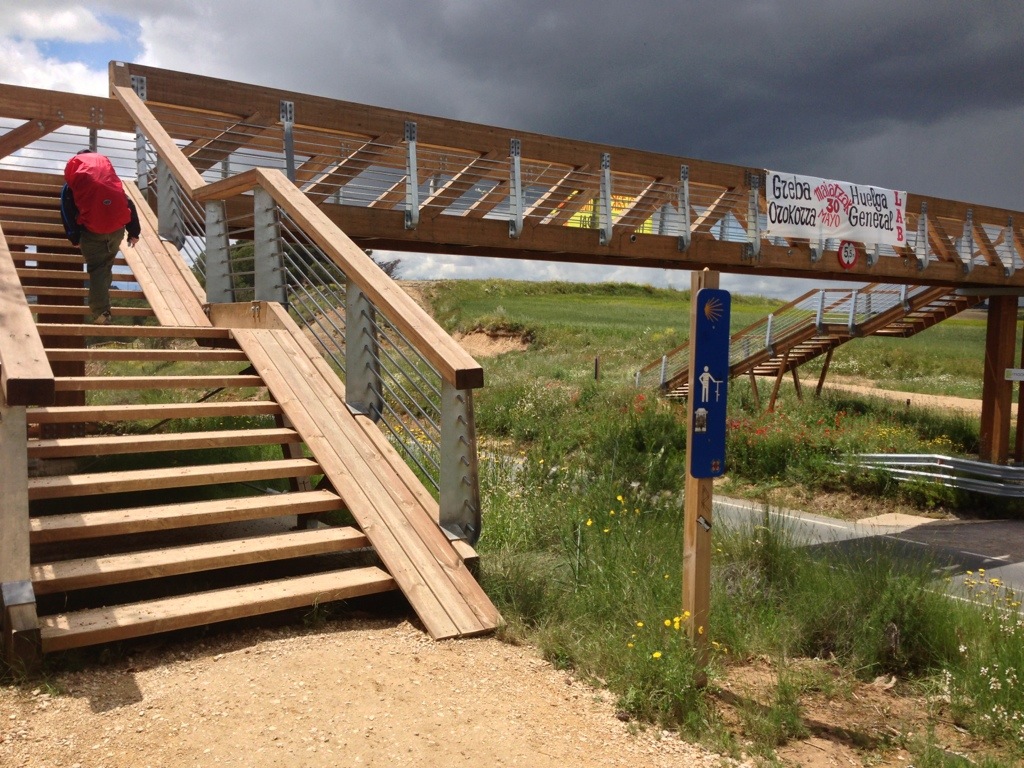 We got a Camino stamp from a sweet little old lady named Maria that counts all the pilgrims she gives stamps to, as they walk by her house each day. Today's count was over 200 when we walked by.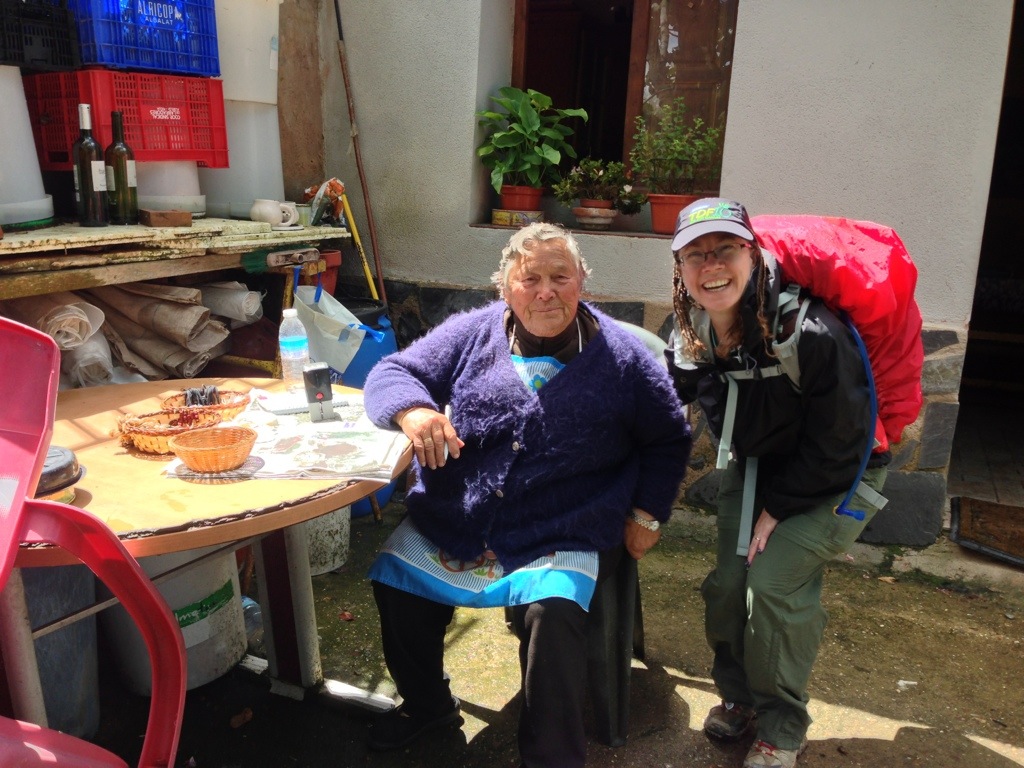 We ended the day at the Albergue Logroño, where we have bunk beds as usual, but just two of them in our own tiny little room with our own bathroom. An Irish couple that we'd met back on day two, Cora and Colm, happen to be in the room next door so we all went out for a great dinner at a tapas bar. We're now back at the room resting our aching everythings and planning an easier day tomorrow.