In May 2013, Kathey and I will be doing the Camino de Santiago, which is a walking route across northern Spain. The most popular route is 500 miles (800 km) and takes about 40 days, walking 12-15 miles (19-24 km) per day. It starts in a little town just on the French side of the border and ends in Santiago de Compostela, near the west coast of Spain. We're going to do the first 11 days of it and see how far we get.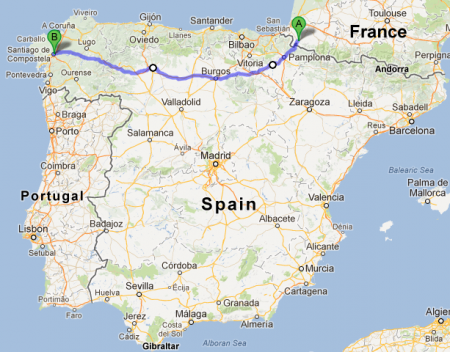 The Camino de Santiago (or "Way of St. James" in English) is a pilgrimage to a cathedral in northwest Spain where the apostle Saint James is buried. The route dates back to the 9th century, and has been continually active ever since. The number of people doing it each year has varied, but it's been steadily rising over the past few decades. In 1985 there were only 690 people, and last year there were almost 200,000 people that did some part of it.
You get a "Camino passport" when you start, and then you get it stamped at each hotel or hostel you stay in along the way. If you walk at least the last 60 miles (100 km) to the cathedral in Santiago de Compostela, you get an official document (the "Compostela") in Spanish or Latin saying you completed the Camino.
I found out about the Camino when I watched a movie several months ago called "The Way" with Martin Sheen and Emilio Estevez. I've been thinking about it ever since. When we discovered that some people do the Camino in segments each year rather than all in one 40 day trip, we realized we could take a couple of weeks and see how far we could get. If our two week adventure goes well, we may go back another year and finish the route, picking up from wherever we leave off this time.
We have our plane tickets and our new backpacks, and have started working our way through the list of a million-and-one things that need to be done before we leave on May 18th. In some ways, this trip seems almost as complicated to plan as our 9-month trip was in 1991, but in different ways. We're doing a lot of training for this trip, because we'll be walking the equivalent of a half marathon every day, with backpacks. Every bit of weight we add to the packs is something we have to carry for 11 days.
We'll be updating this blog as we progress through the to-do list, and we'll try to upload photos and videos of the beautiful Spanish countryside after we get started in May. Watch this space!
If you want to find out more about the Camino de Santiago, you can read the Wikipedia entry or watch the movie "The Way" that I mentioned above. The movie is available on these streaming platforms.