Our Camino for 2013 is done!
Today we walked 6.3 miles (10.2 km) in 2 hours and 15 minutes with no breaks.
That brings us to a total of 119 miles (192 km), which is one quarter of the Camino Francés from Saint-Jean-Pied-de-Port, France to Santiago de Compostela, Spain.
Here's my Credencial del Peregrino (Camino Passport) so far. When we finally arrive in Santiago one day, we'll show all our dated stamps to prove we completed the Camino and receive our Compostela.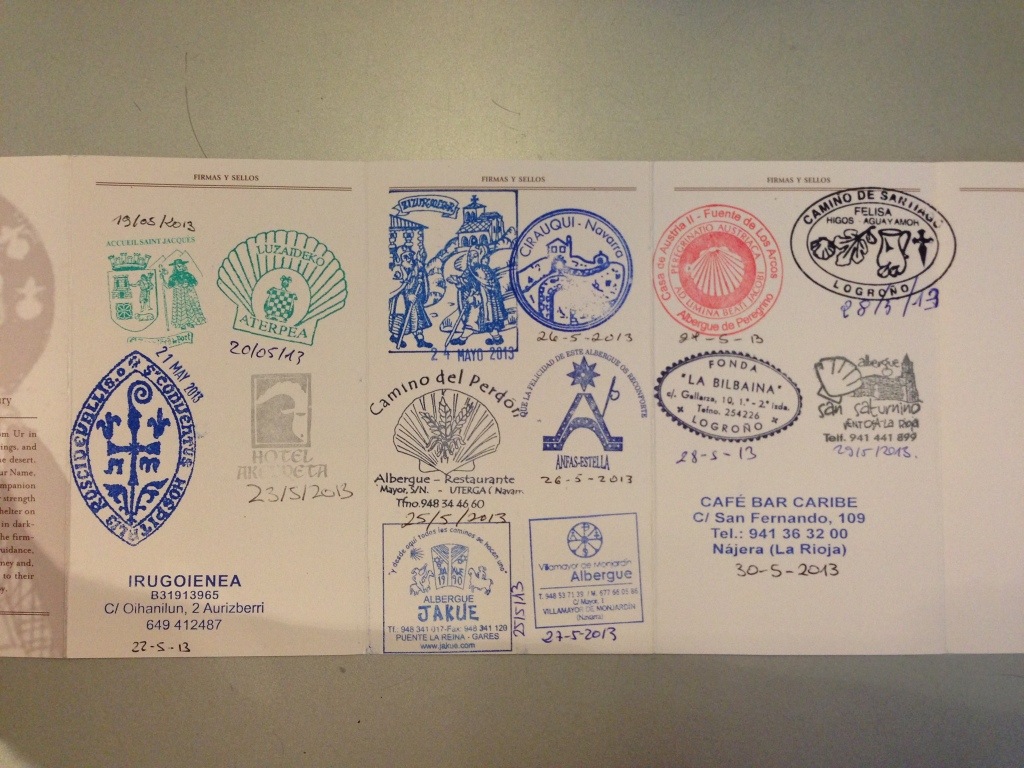 We started the day in Ventosa the same way we started almost every other day — in the cold rain. It's official now, it rained on us 10 out of the 11 days. All the locals are quick to tell us that the weather this year is highly unusual, but we already knew that because before we left, I checked the weather for Spain in late May over the last five years and this isn't it. It's supposed to be getting quite warm, with only a couple of rainy days. But this year, every morning was 45-50 degrees F (7-10 C) and the highest temperature we ever saw was about 65 F (18 C). Highly unusual indeed.
Anyway, it was a long six miles into Nájera. Maybe because it's our last day, or maybe because we're just tired and sore. Kathey's blister on her heel is hurting her and just as we got to the edge of Nájera my ankle started hurting bad enough to make me limp a little. I think our bodies know it's the last day too.
We got a Nájera stamp in our Camino passports from a bar as we came into town, to make it official. (Bars here sort of double as cafés, and they're always a good option along the Camino for food, bathrooms, and a place just to rest a little.) Normally we get our daily stamp from the albergue we're staying at, but lots of bars and restaurants have them too.
When we got to the bus station, it marked the point where our 2013 Camino ended and our next Camino will begin from, so we had a fellow pilgrim take our picture for posterity. The bus ride was about an hour and 40 minutes to Burgos, and it was an odd feeling as we whipped along the highway going through all the towns that are coming up along the Camino next time. "There's Santo Domingo, that's one day of walking… There's Belorado, that's another day…" All the way to Burgos. And of course we had a strong feeling of connection with all the pilgrims we saw out there walking in the cold. It was also the first time in 11 days that we've been on any form of transportation with wheels.
The thing that really surprised us though was the large number of pilgrims on the bus. They just kept getting on at every stop. I think a lot of people either don't have time to do the full Camino, or it's a lot harder than they thought it would be.
We arrived into sunny Burgos and walked over the river to the cathedral for a quick look, and saw the point where the yellow arrows will be leading us in when we make the same trip from Nájera on foot next time. Then we checked in to a nice hotel, and I had a big case of culture shock.
I'm sitting on a soft king sized bed (where are the bunk beds??), eating the trail mix I've been carrying for a few days, and drinking from one of the two water bottles that are always within reach on my pack. I forgot to ask the lady at reception what time lights-out is. Kathey, however, is enjoying the jacuzzi bathtub and has her eye on the room service menu.
Tomorrow we'll take a train to Madrid and try to ease back into normal civilization a bit more.
I think a taxi ad on a Camino route marker is just so wrong.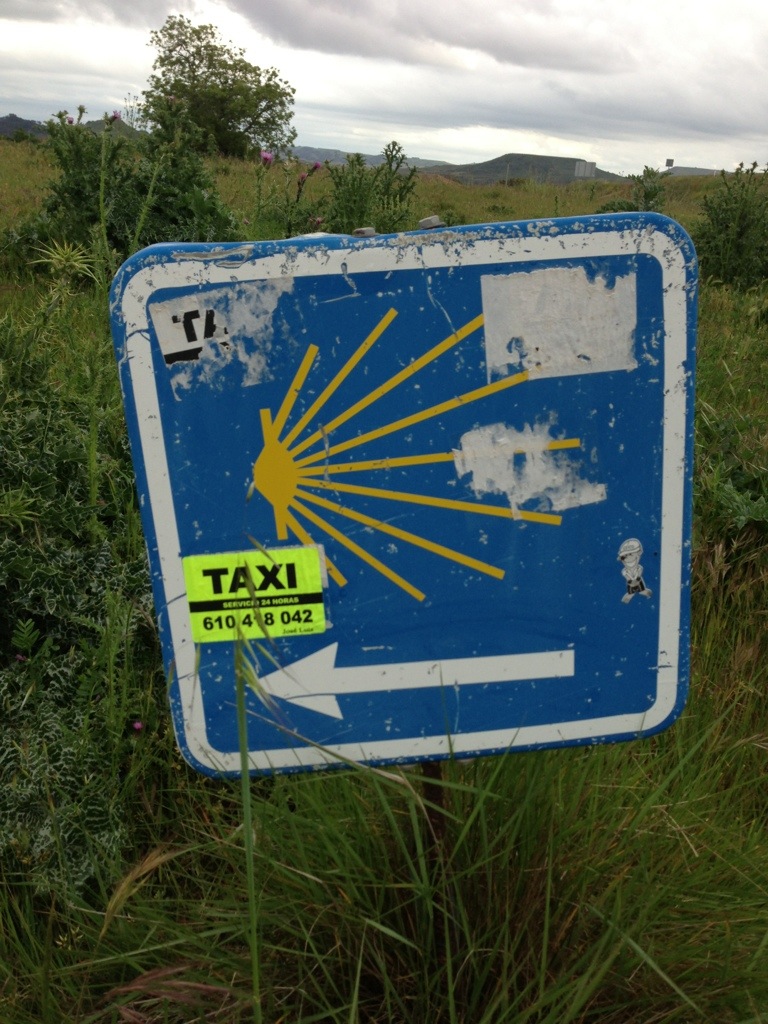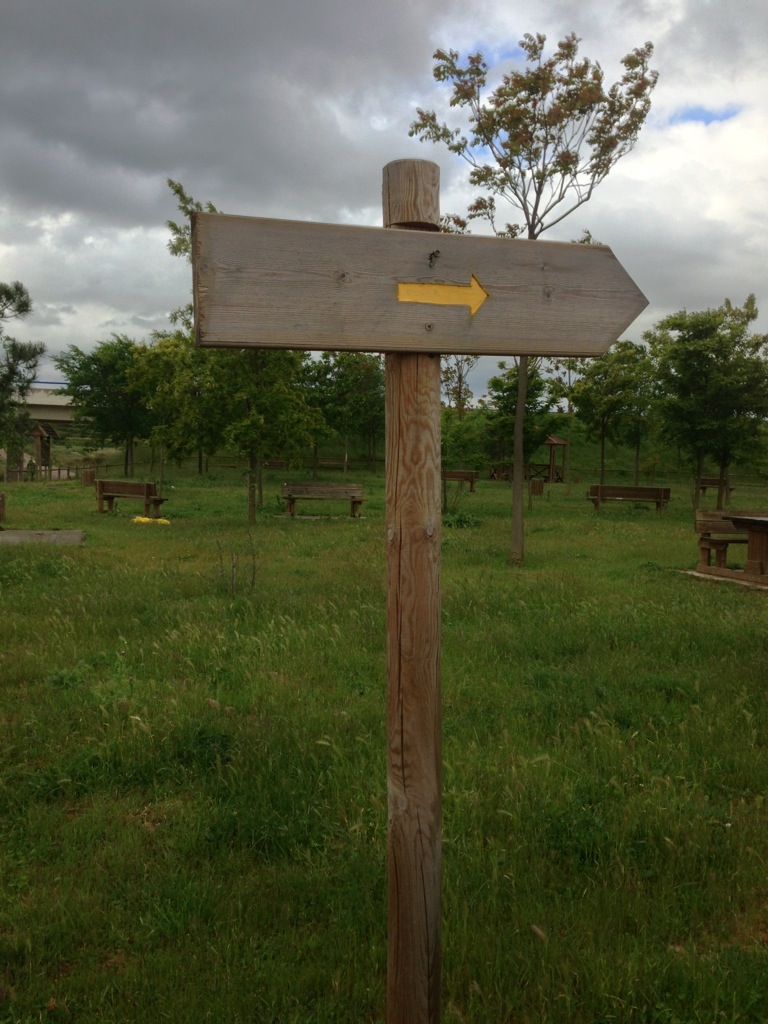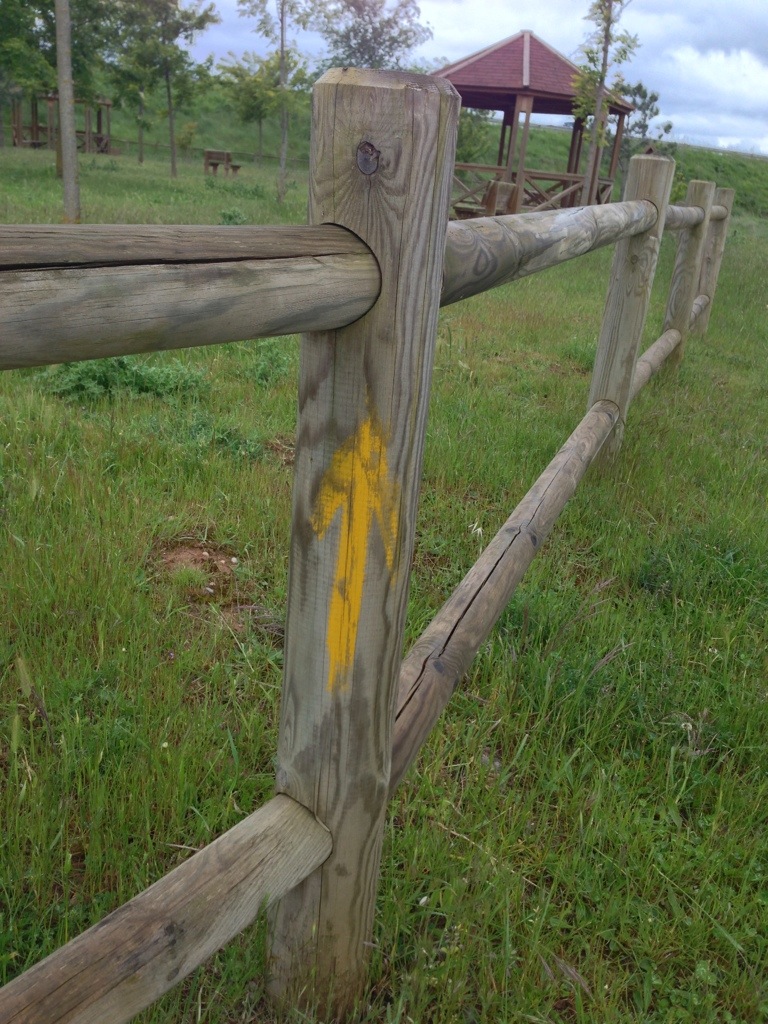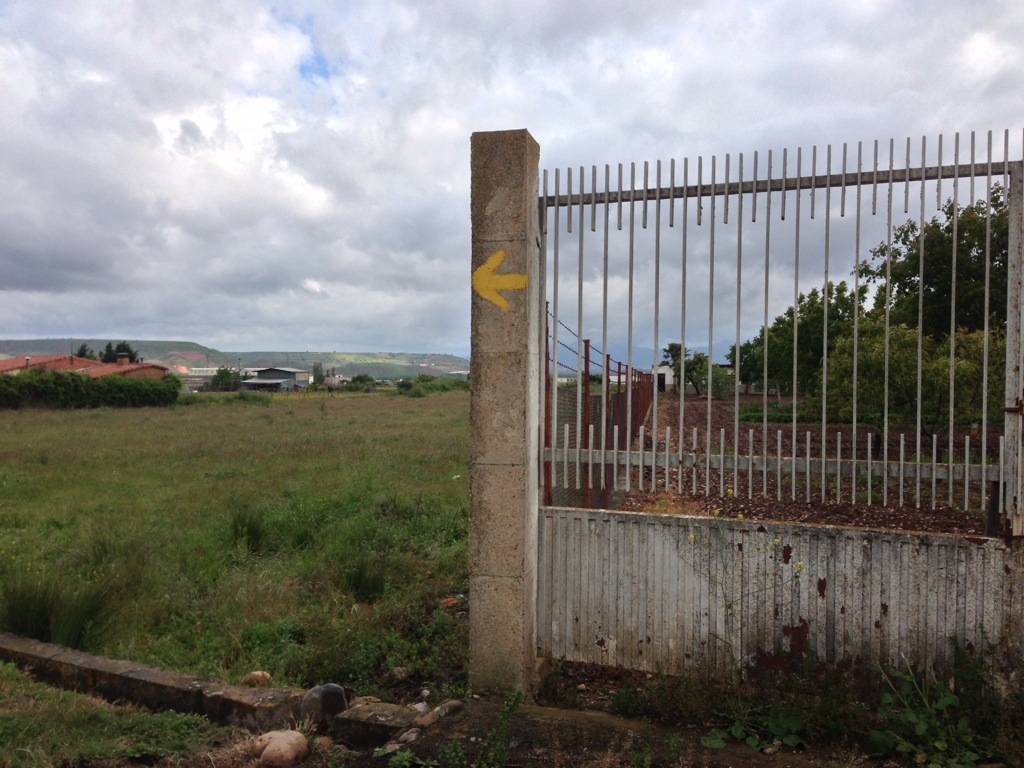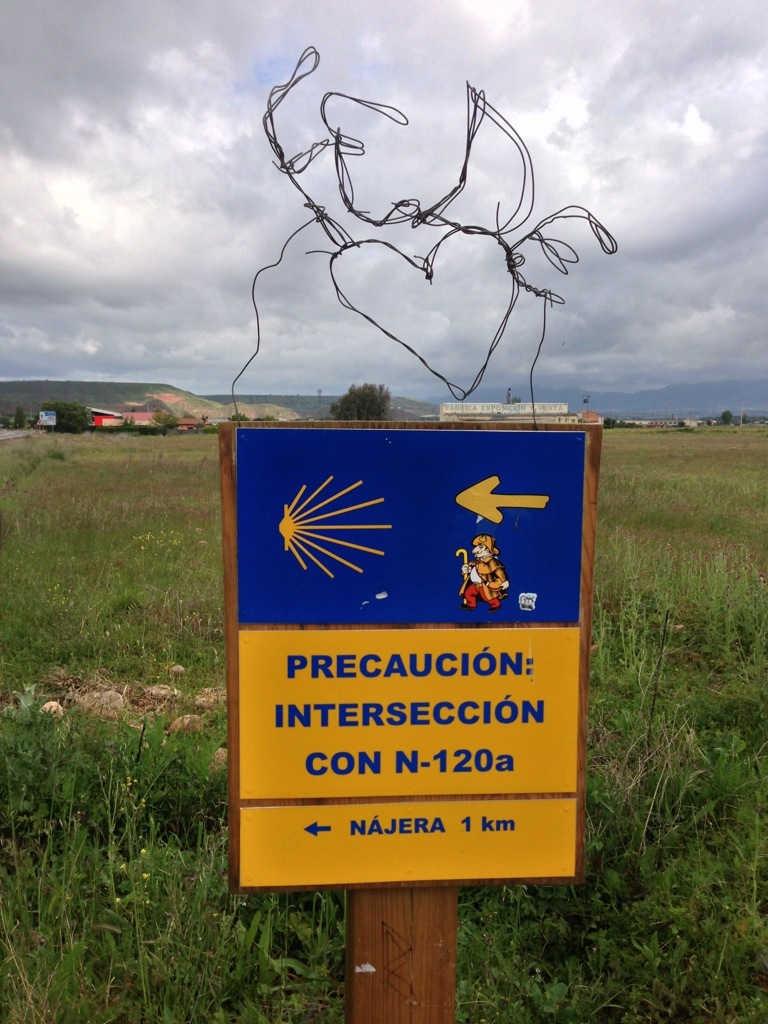 The weather, almost every day.